---
Touring the Rayong Orchards
Rayong – A major fruit growing region and much more!
Several areas of Thailand are famous for the fruit they produce, and the nearest fruit mecca to Pattaya is Rayong. This area of Eastern Thailand is gradually becoming more popular with tourists, although Thai people have long been aware of its wonderful qualities.
It has a coastline which covers over 100 kilometers and offers some beautiful beaches. The waters off the coast are rich in marine life, making it a major fishing area, and the seafood served at the local restaurants is absolutely delicious. Inland you will also find scenic countryside, picturesque waterfalls and its second major industry which is Fruit.
Why such an abundance of fruit?
The reason for such wonderful fruit crops are the months of monsoon rain which allow the orchards to cool from the day's heat, produce nutritious and fertile soil, and thus produce some wonderful harvests.
Orchard touring in general
There are lots of different orchards you can visit, these range from large commercial style operations through to small, family owned organic fruit orchards. As you would expect, the more organized tours are from the larger orchards, and the general itinerary would either be a morning or afternoon visit.
You will tour the orchard on foot or in a vehicle which is best described as a colourfully decorated, open sided trolley bus. This is a great way to go, especially if you have children in your party. There is commentary as you proceed through the grounds, but the majority of tours offer Thai commentaries only. If you really want to understand everything, you can hire a guide for the day, or book up for a group trip with an English speaking tour-guide to learn about about the planting, maintenance, growing and harvesting of a whole host of fruits. It's also perfectly OK to "go along for the ride" and just enjoy the scenery.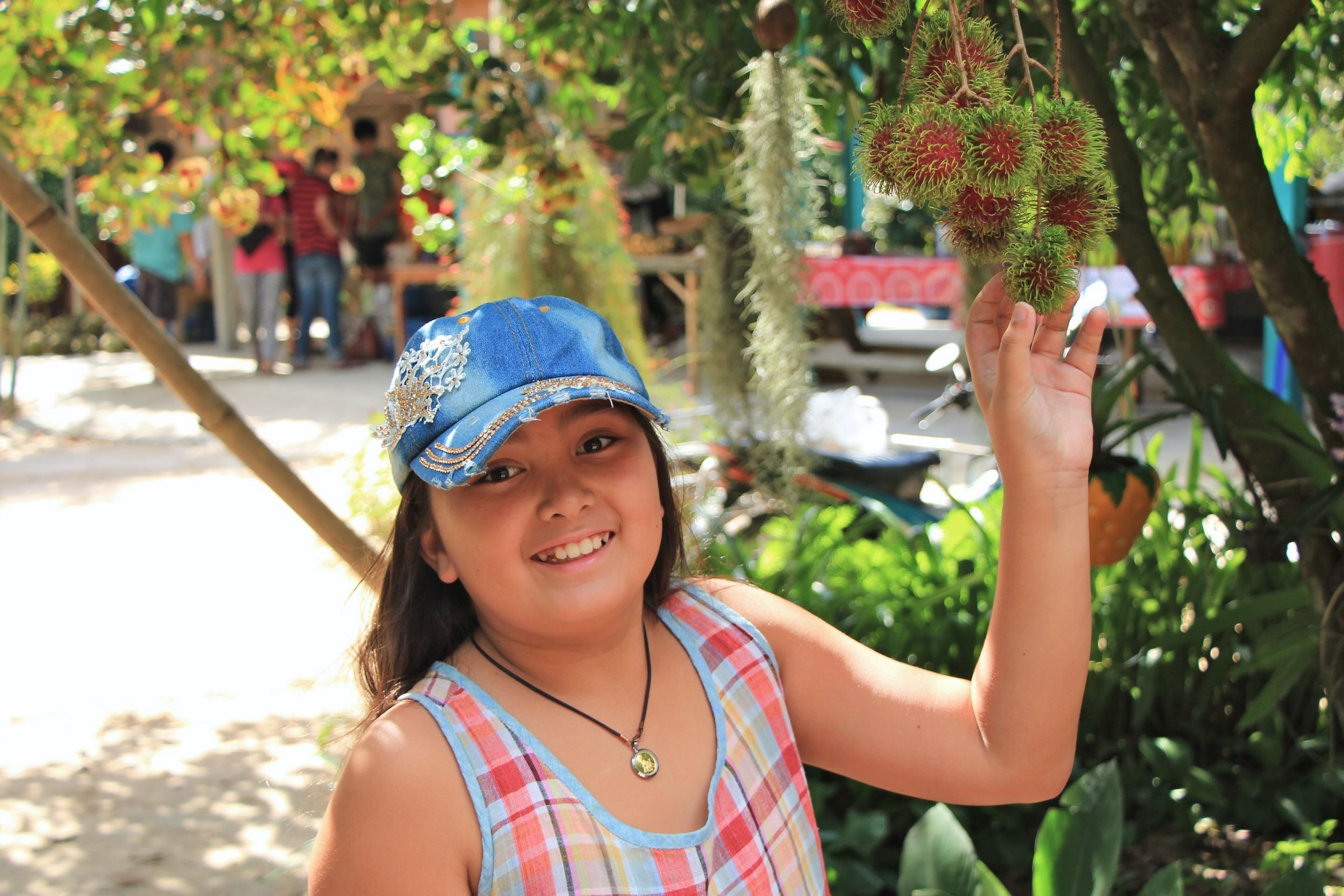 There will generally be a stop at a 'fruit buffet' where you can devour as much local produce as you wish. This includes banana, mango, rambutan, pineapple, mangosteen, durian, papaya and sala. There will also be regular stops along the way where you can stretch your legs and wander around to inspect the produce, and pick and eat whatever you wish.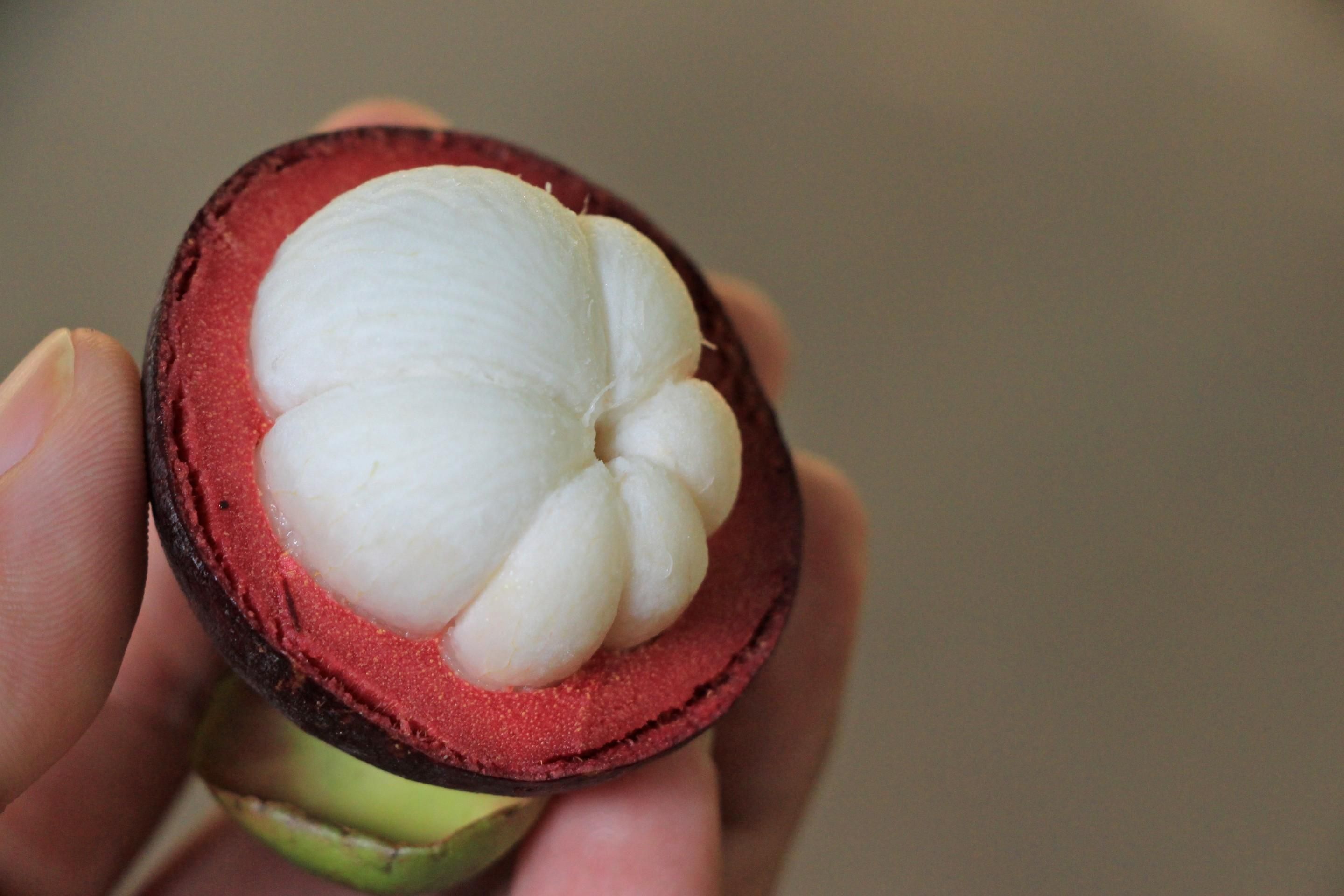 Suphattra Land
The largest orchard offering tours is Suphattra Land, and although the price for foreigners may seem steep at 400 baht per person (250 baht for a Thai National) you do get lots for your money. There is a delicious tasting tropical ice smoothie before you start, your complete fill of however much fresh fruit you can eat, a stop at a restaurant area which provides you with Som Tum (spicy papaya salad), and before the tour closes you also get to visit a Bee and Honey area where free honey is available to taste and products can be purchased.
Be warned; The Som Tum is served in a variety of different strengths from not-so-spicy to incinerator hot, so choose carefully!
Educational and very tasty!
A Rayong Orchard Tour is a wonderful way to spend a day. It is educational, scenic, and above all an extremely delicious experience!
Directions and other information
From Pattaya drive towards Highway 7 - Bangkok, take Route 36 and stay on this until you reach Rayong Town. If you wish to reach Suphattra Land this is in the Baan Khai District, 30 kilometers from Town. Take Route 3138 from Rayong for 9 kilometers, turn right to Ban Bueng Village towards the Baan Khai District. After passing Ban Kai Hospital turn right at the intersection. You will see Suphattra Land on your right hand side.
Suphattra Land is open from 08.00hrs until 17.00hrs every day except Sundays. Entrance is 400 baht for foreigners and 250 baht for Thai Nationals.
Lots of orchards in the area offer tours on a more informal basis (a bit like "wine tasting" in grape-growing regions), and their prices generally range from 100 baht to 300 baht. The best way to visit these is simply to tour the Rayong area and when you see a sign for an Orchard pop in to see what is on offer. The owners and staff are friendly and will give you a warm welcome.
The best time to visit the orchards is between April and July