---
Royal Flora Ratchapruek Garden Chiang Mai
Royal Flora Ratchapruek Botanical Gardens, Chiang Mai
Nestled in a scenic and lush mountain landscape of 400 rai (240,000 square metres) Ratchaphruek Garden is only 10km southwest of Chiang Mai city centre. It offers gardens with countless trees, plants and shrubs along with some stunning flower displays. The visitor will also be visually impressed by the fantastic artwork and architecture throughout the park.
It was originally the site for the 2006 International horticultural exposition – Royal Flora Expo 2006. This exhibition commemorated the auspicious occasion of the 60th anniversary of the crowning of His Majesty King Bhumibol Adulyadej.
Visitors far exceeded anyone's expectations and were well over 3 million. Since then the Royal Research Centre has grown and developed as a major place of agrotourism, learning and research. It is a place used by the public as well as a meeting place for farmers to share their knowledge.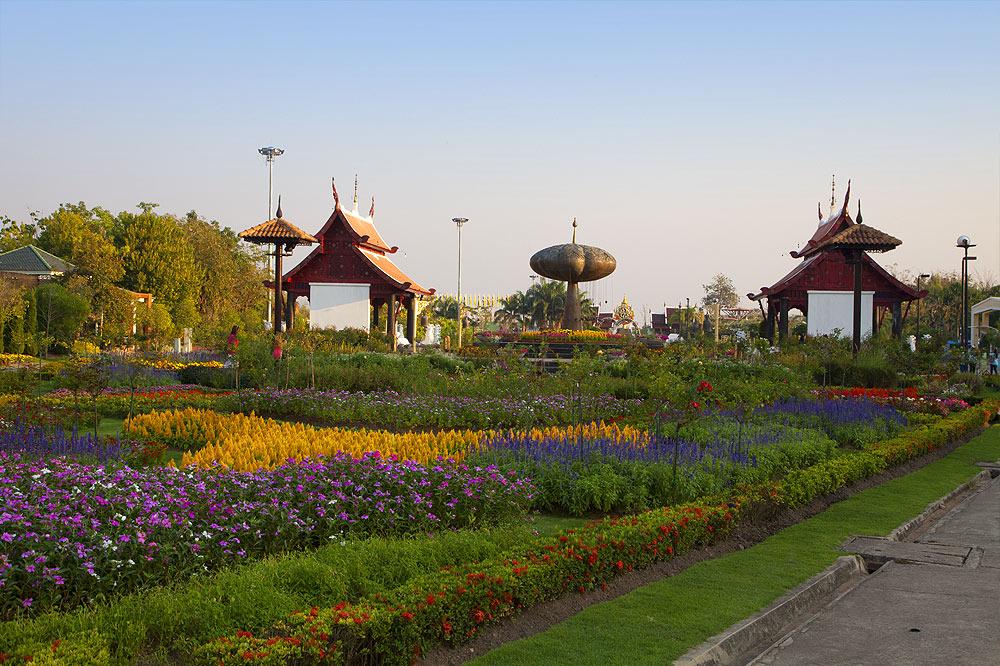 Before we look at some of the stunning sights you will encounter lets explain a little about the Ratchapruek;
The Ratchaphruek or Golden Shower Tree is Thailand's national flower. It offers bright yellow blossoms and these correspond to Monday, which is the King's birthday. Other common names for it are "Chaiyaphruek" or "Khun".
Ho Kham Royal Pavilion
This is the garden's symbol. Featuring traditional Lanna style architecture, it has high ceilings along with steep multi-tiered roofs. The ancient craftsmanship which has gone into this pavilion will amaze you. Its interior hosts some wonderful traditional and modern artwork relating to King Bhumibol's many activities aimed at improving life for all Thai people. The subdued tones of grey, red and gold offer a dream-like atmosphere.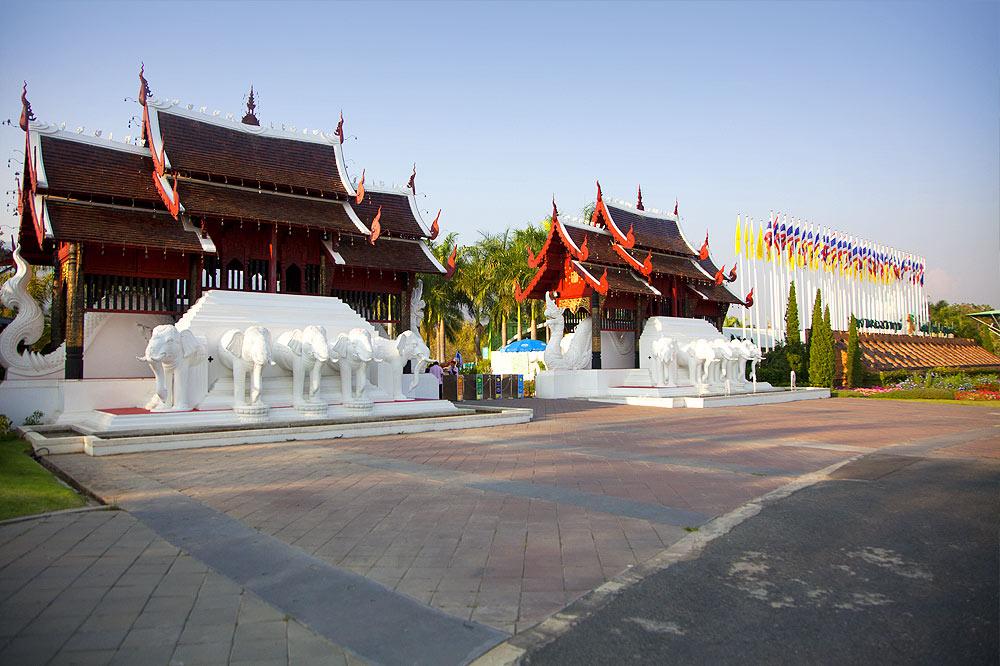 You will also find the imposing Tree of Ten Kingly Virtues comprised of gold layered Bhodi leaves. This is symbolic in the sense it shows how the King provides his own 'garden' of spiritual shade for his beloved people.
International Gardens
This is a fascinating area which offers an insight into different garden landscapes of 33 countries. There are some stunning plant and flower displays with striking colours, but what adds to this area is how each country is identified through examples of its architecture and art.
Outdoor Exhibition
Here you will find a lotus garden, water plants, and interestingly, plants from each of Thailand's 76 provinces. Some of these are deemed to be auspicious and some with a link to Buddhist history. Here you will also find some plants which have been patiently and painstakingly trained to form some wondrous shapes.
Rare Plants
If you are wondering what the trees are at the entrance these include the 'Royal Palm' and the 'Double Coconut'. There are also some ancient pine trees from a species which has been found to date back 250 million years.
'Royal Palm'
You will see this tree in many places throughout the kingdom. It has a smooth grey trunk, and when young it is swollen at its base. As it matures, it swells in the middle leaving it bottle shaped. This impressive trunk can reach 20 metres in height, while the deep dark-green leaves give it a lustrous tropical look.
'Double Coconut' this is also known as the 'Coco de Mer''. It is a native of the beautiful Seychelle Islands in the Indian Ocean. This palm is mostly grown for its ornamental beauty, and is so named because the fruit closely resembles a double coconut. It contains the largest seeds in the plant world. These can be up to 45cm in length, 30cm in diameter and can weigh an amazing 14kg.
A thoroughly interesting day out
This park has something for the whole family and will fascinate you not only with its huge array of plant life, but the architecture and artistic delights which surprise throughout the gardens.
Directions to Royal Flora and Opening Hours
It is 10km southwest of Chiang Mai city centre in the Mae Hia district and is well signposted. Opening hours are 10.00-18.00hrs daily, except for Mondays. Entrance is free
Extended opening hours are possible during exhibitions. If you would prefer not to drive, then joining a group tour is a good way to reach the park.
Click to see our comprehensive range of Chiang Mai villas and apartments for rent.