---
Kayak Trips in Koh Lanta
Kayaking in Koh Lanta
Kayaking is one of the many attractions on the Koh Lanta islands of Southern Thailand. Although not quite as spectacular as the sea kayaking around neighboring Krabi province, it's one of the best ways to take in the natural beauty of Koh Lanta.
Most of the island's beaches have at least one kayak rental shop that usually charges by the hour. It's not necessary to hire a guide, and visitors can explore by themselves, along the coast or across the water to one of the tiny deserted islets. Koh Lanta's east side is more rocky, with mysterious limestone caves, secret coves and clear emerald water. Completely uncrowded, the best way to see this part of the island is to take your time exploring by kayak.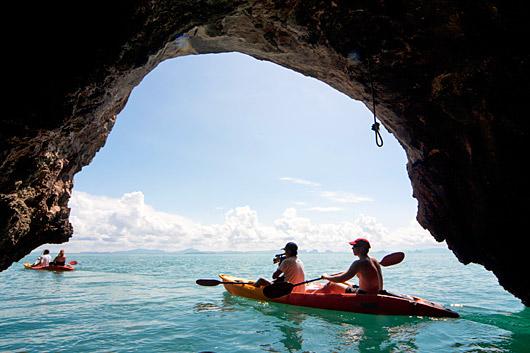 From unlimited ocean vistas between the two beautiful islands, Talabeng island and Tung Yee Peng, you'll be on your way to an unbeatable ocean voyage. Each of these monoliths stand in brilliant contrast with the ocean waves and are best known for the calm, teal blue waters separating them. The two huge rocks stand more than 70 meters tall and the still current between them makes the area ideal for kayaking, surrounded by lush vegetation. Dynamic limestone cliffs tower over the island's patchwork of caverns which offer almost endless trips through their lengths.
Just a few minutes east, Bu Bu Island is a private, tranquil place with white sandy beaches ideal for swimming. It's easy to unwind here and take a nap before kayaking back to Koh Lanta in the distance.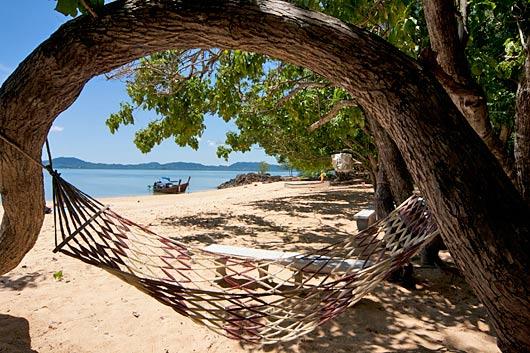 The Mangrove Forests of the Koh Lanta Islands are another hotspot for the game kayak adventurer. With their untouched beauty and their remoteness you can't help but feel like a real explorer. Filled with sea life and mainland bird populations, the Mangrove Forests will bring a sense of wonder to all that venture into their midst. This rare biosphere is only found in the tropics and acts as a sanctuary for the staggeringly diverse wildlife. Passing almost silently between these mangrove trees is both a soothing and surreal experience.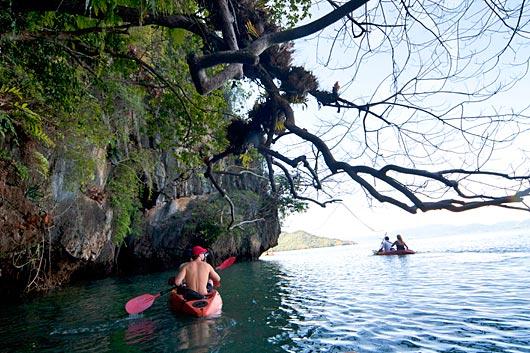 Your trip to Koh Lanta doesn't have to be all about kayaking and remote treks through beautiful teal blue waters and Mangrove forests. Koh Lanta offers something for every member of your party, from original hand-crafted hammocks and one-of-a-kind artwork to some of the region's most culturally diverse cuisine pulled straight from the Andaman Sea daily and prepared by some of the area's master chefs.
There are plenty of options on Koh Lanta and none of them take a back seat to any of the others, especially when it comes to relaxing in a quaint setting devoid of tourist masses. So plan your next adventure with simplicity in mind and book a kayaking trip in Koh Lanta.
Click the link to view all Koh Lanta villas for rent.