---
Lamai Beach in Koh Samui
Popular Samui Beaches
Samui's second most popular beach located just south of Chaweng is Lamai Beach, which offers a more relaxed and less bustling scene than its northern neighbor. That said, there is still a fair amount of shops, restaurants and bars here and the nightlife in Lamai Town can get quite lively. It´s a fantastic location to stretch out and soak up the sun, and some would even say Lamai Beach is Samui's most beautiful, especially its southern parts.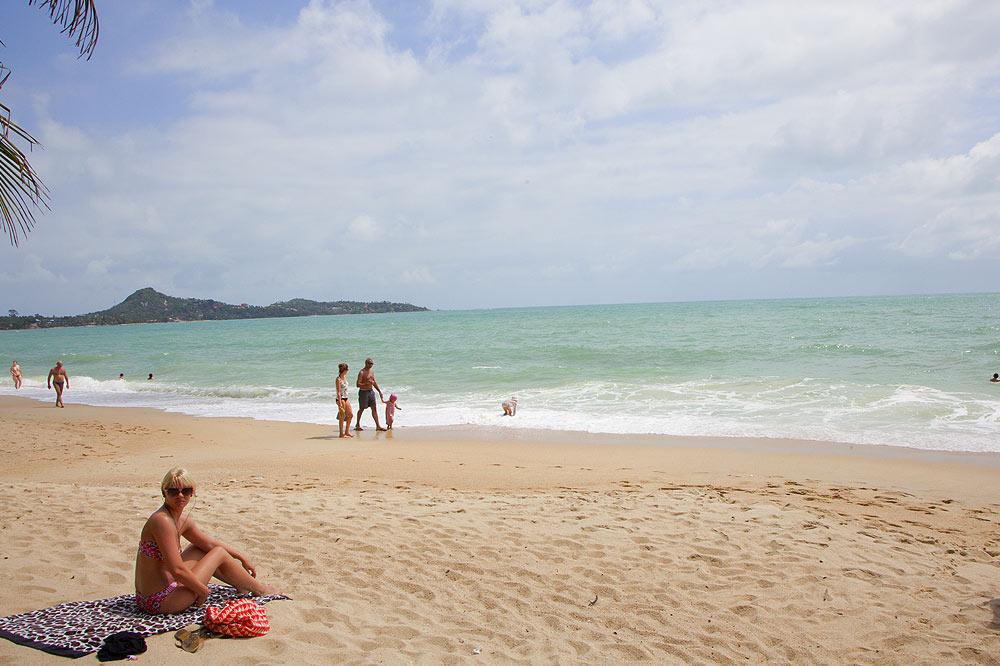 Watersports on Lamai
Lamai Beach is crescent shaped and the water at the southern end is good for swimming. You can find better spots on the island for snorkeling, but Lamai still has some wonderfully clear water. Grab yourself some goggles from one of the nearby vendors and check out what´s below the surface. Besides swimming and snorkeling, there is a wide range of watersports available including all the usual favorites such as jet skiing, water skiing, windsurfing and parasailing. A recent addition to these, and one that might make you look twice, is flyboarding. This extreme sport involves jets of water which, if controlled correctly, will propel you into the air above the sea. Think Ironman - only with water - and you'll be somewhere close. The main flyboarding centre is open every day and is easily found on the Lamai Beach front. Prices start at about 1,000 baht for a short session and training is included.
Eating and Drinking in Lamai
If you prefer to eat the fish, rather than swim with them, Lamai Beach has a plethora of restaurants serving up fresh seafood. Around dusk, restaurants will start laying out the day's catch to tempt in passers-by. Together with the smell of a smoldering barbeque and fresh fish, it´ll only be a matter of time before you give in. Our Lamai favorites are the jumbo shrimp, fresh crab, and Red Snapper fish with spicy dipping sauce. Western classics can also be found if you go into the town. There are a couple of Irish Pubs about that do fantastic homemade burgers, pies and sausages.
Once you've topped-up that tan, gone swimming (or skyboarding for the daredevils), have a stomach full of delicious seafood, it might be about time to sample the nightlife. Whilst Lamai isn't renowned for being the number one party spot on the island (head to Chaweng for more of a raucous night) it does offer a fair amount of venues that are definitely worth a visit. Highlights include Swing Bar (named after their unique ´swing` seats) with live fire shows all night; The Shamrock Irish Pub where you can sink a cold Guinness and watch the big game; and The Wine Bar Lamai, which has one of the best selections of wine and beer in the whole of Samui. For the party animals, there are a couple of trendy clubs, such as Fusion Club and Ocean Club. Expect to see rum buckets, renowned local DJs, and a few dodgy tan lines on display.
Accommodation in Lamai
Many of the villas in Lamai are directly on the beachfront, and we don't mean a short walk/hike away - we mean as soon as you step outside your door you'll be able to feel the sand between your toes and hear the gentle waves lapping at the shoreline. Many resorts will also have their own designated areas on the beach, which aren't private, but it does mean that their guests get priority sun lounger/deckchair/beach-towel space.