---
Six Senses Spa in Koh Samui
Six Senses Spa. Koh Samui
There are two ways of getting back to nature. One is by roughing it in tents. And the other is by visiting a top-of-the-range spa that's environmentally friendly. As a company policy they don't even pick flowers here. And the result? A totally natural experience but with every modern luxury.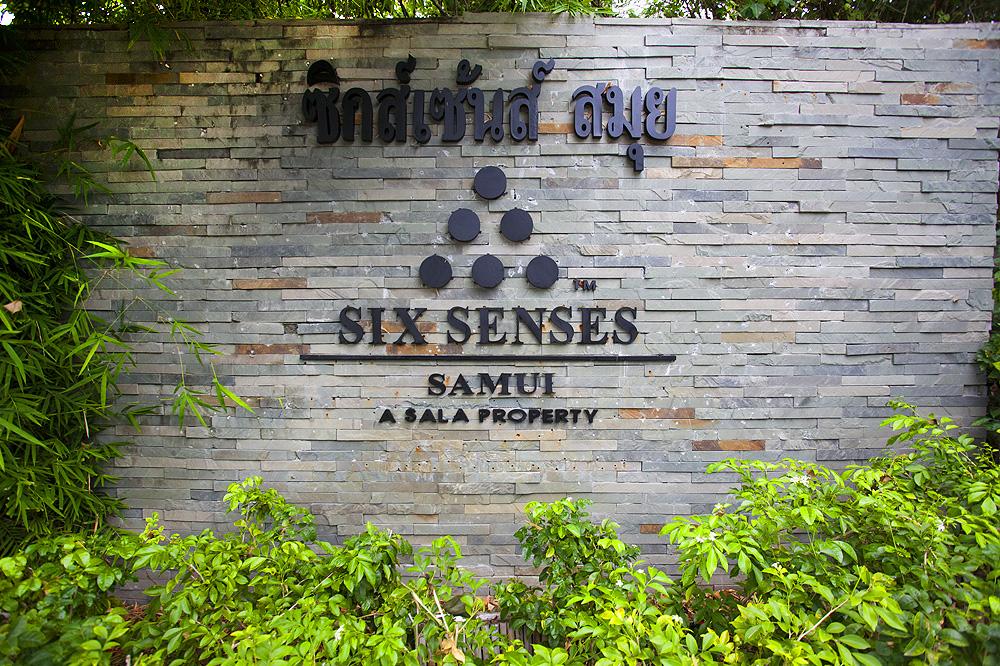 Six Senses Spa is special. And being a part of the renowned resort, Six Senses Samui, in the unspoilt Samrong Bay on the northeast coast, you'd expect it to be peaceful and secluded. And you'd be right.
Arrive at the expansive open terrace in front of this brand-new resort's reception and you'll automatically find yourself going to the edge to take in the breathtaking, panoramic 270 degree view across to the neighboring islands of Koh Som and Koh Phangan. From there you'll spot the small sign for the spa.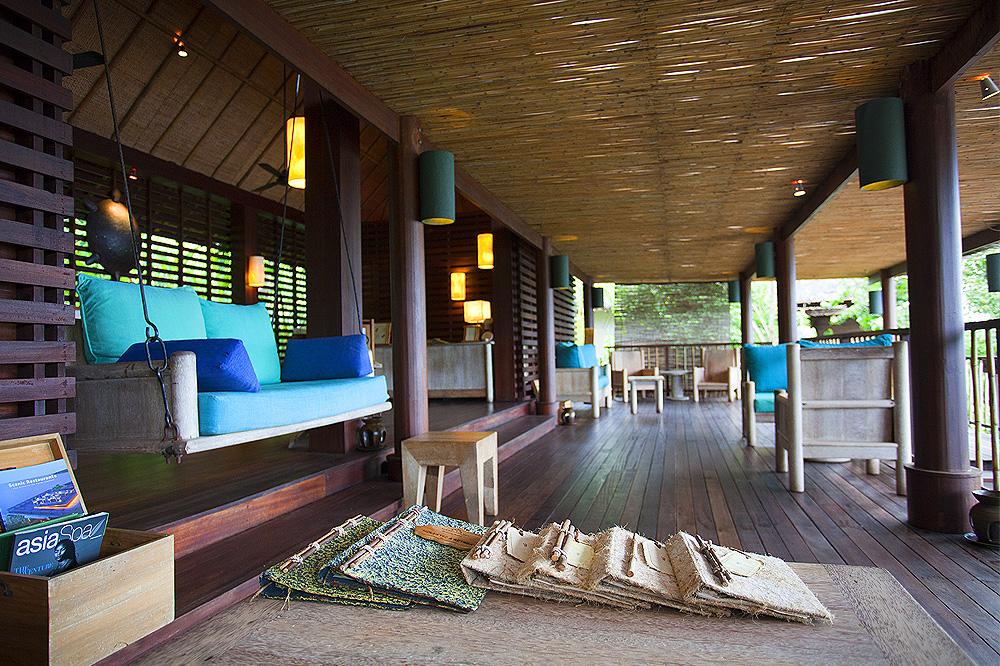 Rustic timber beams form the dozen or so steps that lead you down the side of the hillside to the Six Senses Spa reception. It's here that your choices begin.
There are all the treatments you'd expect from a top-class spa, including a comprehensive range of massages, bodywraps, body-scrubs and facials, etc. But, thanks to the spa's highly experienced and charming Wellness & Spa Manager, Khun Keerana Sripongpunkul, things here are totally tailored to your specifications with a strong spiritual focus on every treatment.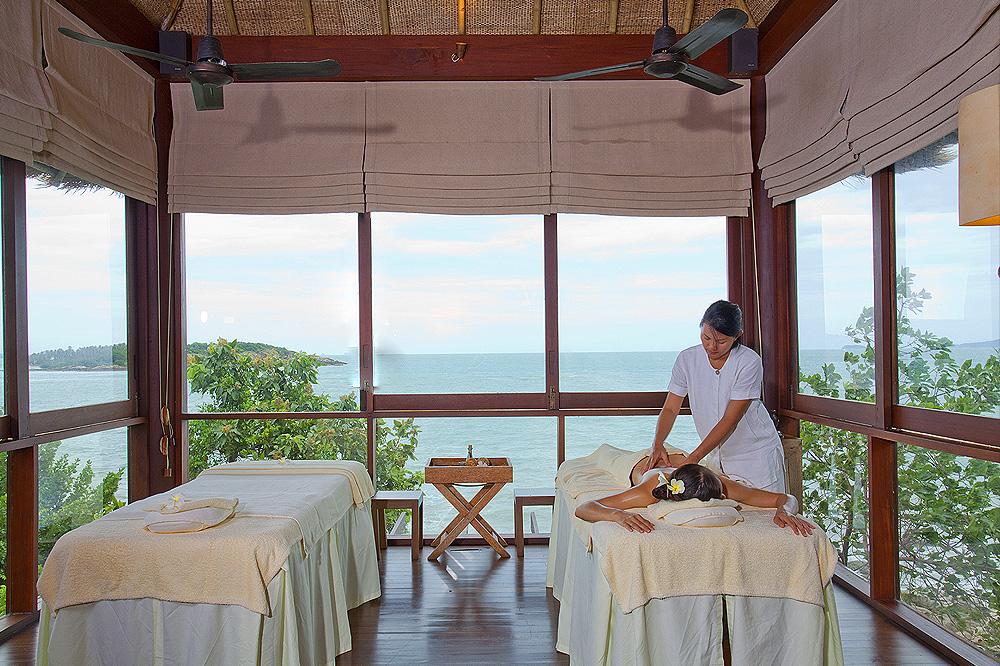 Packages at Six Senses Spa Samui
A perfect example of this is their therapeutic 3-hour Cleansing Ritual spa package which promises to "nourish, detoxify and rejuvenate your body inside out." And as it includes an Herbal Steam & Sauna, an Aromatic Marine Salt Scrub, a Seaweed Body Wrap and ends with a Lymphatic Drainage Massage, it certainly does just that.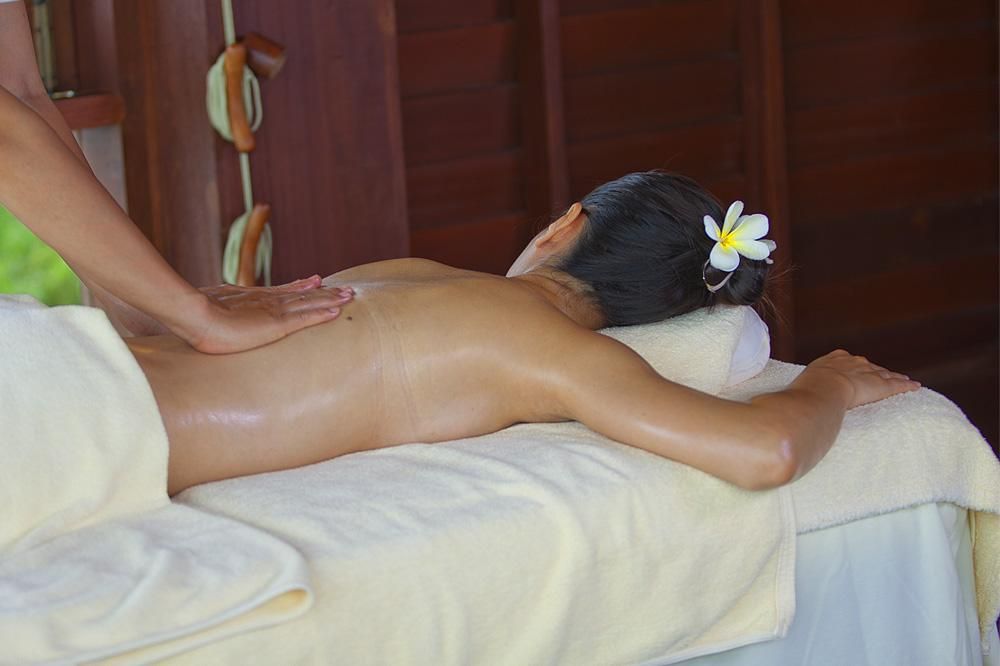 Fine Dining at Six Senses Spa
Once the spa treatment is over, many visitors will stay for the exquisite food served up at the resort´s stunning, and aptly named ´Dining on the Rocks´ restaurant. Situated right on the shoreline and boasting a 270 degree panoramic view of the Gulf of Thailand, the restaurant has previously been award prestigious gastronomic awards and frequently pops up on lists of Thailand's best restaurants. The seasonal menu offers an excellent range of mouth-watering international and regional favourites, and highlights include the beef tenderloin in a sukiyaki broth, and spicy Tom Yam soup with seared scallops parmesan cheese. It's open to both hotel guests as well as the public, and seeing as you're there already, it will be difficult to resist temptation. The best table in the house is number 99; it's set on its own private deck so you can only imagine how many marriage proposals have taken place here.
Six Senses´ incredibly unique location (right on Koh Samui´s most north-easterly tip) does mean that it is slightly out of the way. However, this very fact actually makes it all the more worthwhile in finding. If you're staying at the resort, the hotel management can organise transport services from anywhere across the island. For those wanting to just visit the spa or restaurant, jump in a taxi or Songtheaw and make the 10 minute or so journey from Bophut, or 20 minutes ride from Chaweng town.
For more details of the Six Senses Spa experience, please see the below contact details:
Six Senses Spa
Six Senses Samui
9/10 Moo 5, Baan Plai Laem,
Bophut, Koh Samui 84320
Thailand
Tel: (66) 0 7724 5678
Fax: (66) 0 7724 5671
email: [email protected]
Website:www.sixsenses.com
Open from 10.00 AM to 10.00 PM
Click to view our unique range of Koh Samui villas and holiday homes here.