---
Namuang Safari Park at Koh Samui
Safari Park in Samui
Namuang Safari Park and Waterfall in Samui offers a fun day out for the whole family, with a range of shows and exciting activities to enjoy. Open daily from 9am to 5pm, the park is located a few kilometres from Nathorn Pier. There are elephant, monkey, crocodile, bird, snake and scorpion shows, and a mini zoo that offers the chance to feed the resident animals, such as tigers and leopards. Whilst this may or may not be to everybody's taste, the park does offer several other activities for those seeking something a bit different.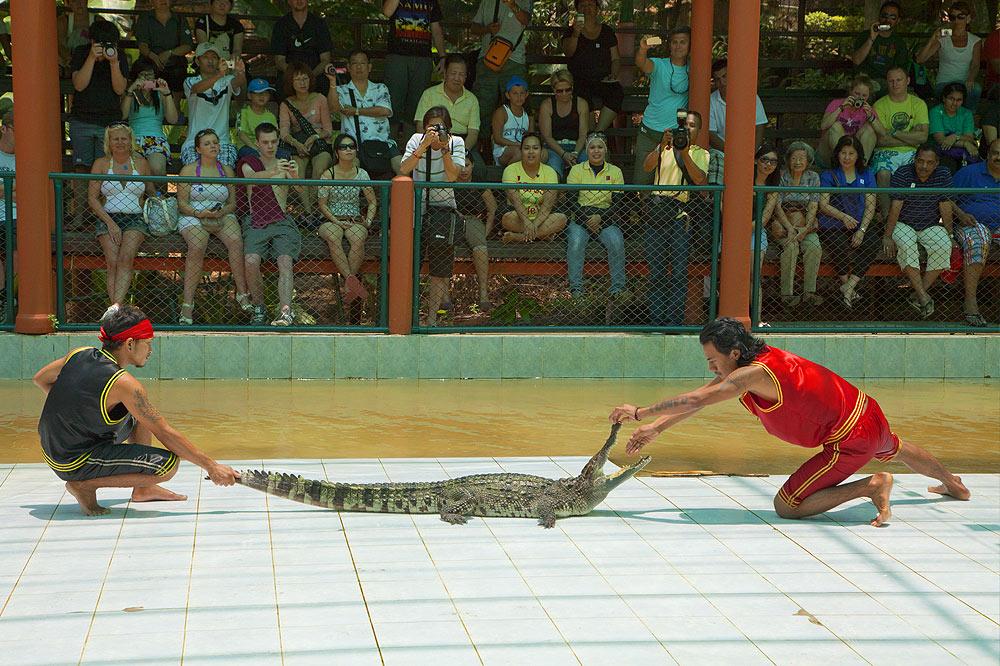 One popular activity (and once in a life-time photo opportunity) is to go elephant trekking in the jungle. There´s something that`s almost spiritual about riding these majestic beasts as they slowly but surely plod from side to side through the jungle, with little fuss or noise. It´s a chance for you to take in the beautiful natural surroundings and hear the buzzing forest activity around you. Be armed with a camera, a bottle of water and that all-important mosquito repellent spray. Trekking is available throughout the day at this Safari Park.
Within the jungle, you can also see a demonstration of rubber tapping, which is an interesting insight in to this big business in Thailand. There are also several coconut plantations dotted around the area, allowing you see how this popular fruit is grown and picked in Thailand.
Namuang Waterfall
Namuang Safari Park is also home to the highest waterfall on Koh Samui. The waterfall is actually comprised of two parts, with Namuang 1 located just off the main road. When you first arrive, it´ll almost be impossible to resist a dip in the waterfall´s pool of fresh, cold water - especially on a scorching day - so bring your swimming clothes. To find Namuang 2, you'll need to don your walking boots for the small hike up the hill. Most visitors don't bother with the thirty minute trip, but those who are feeling a little more adventurous are rewarded with some spectacular views. You'll also notice the naturally purple colored rocks all around the waterfall, which is where the name (na muang = purple faced) of the waterfall and surrounding area comes from.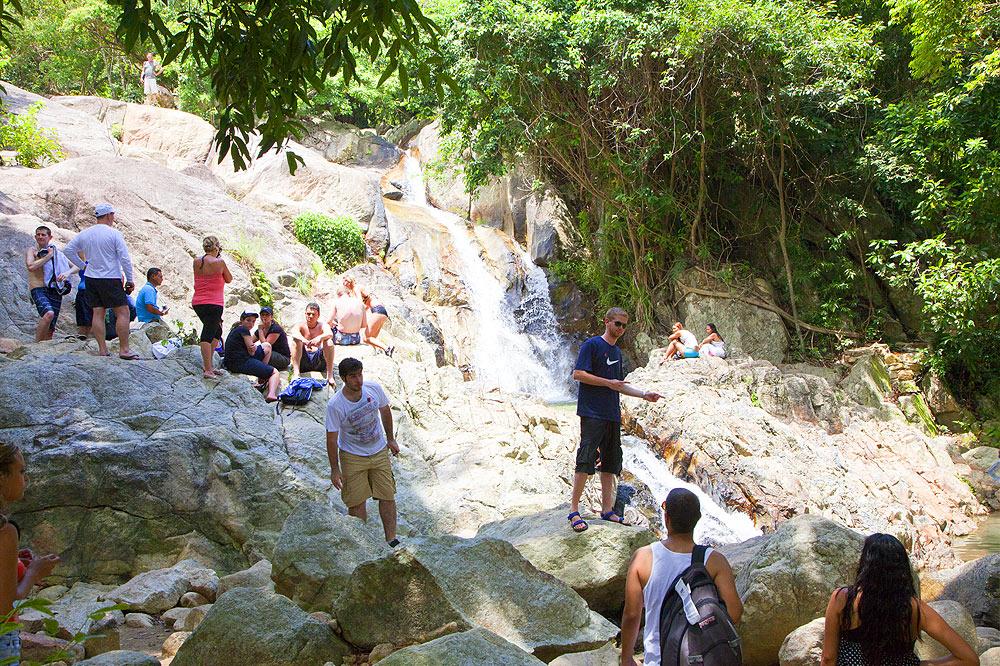 Other Activities at Namuang Safari Park
Another fun activity is the cable car ride through the tree tops. Not so much of a car, but more zip wire with a safety harness, the tour offers a pretty thrilling way of getting from point A to B. It´s safe, fun and a great way to see the natural jungle in all its glory. Prices are around 500 Baht per person and the trips are available three times per day: at 9.30, 13.00 and 15.30.
Adventure seekers can also try their hand at 4x4 off-road mountain tours. Daily trips start at 9.00am and will pick you up from your own hotel. From there you will spend the next 8 hours exploring various attractions across the island as well as at the Safari Park itself. Prices for adults are around 1,700 Baht (as of March 2014) which include a full day of activities and transfers. Other tour packages are also available at the Safari Park which caters for individual interests.