---
Suwannaram Temple (Wat Plai Laem)
Koh Samui Temples
Suwannaram Temple is a fascinating, yet often overlooked temple on the island of Koh Samui. Known locally as Wat Plai Laem, it features a huge white Buddha statue of some 20-meters in height that is situated in the centre of a picturesque lake. It can be reached by crossing a white stone and marble bridge that makes for a stunning picture for the holiday photo album.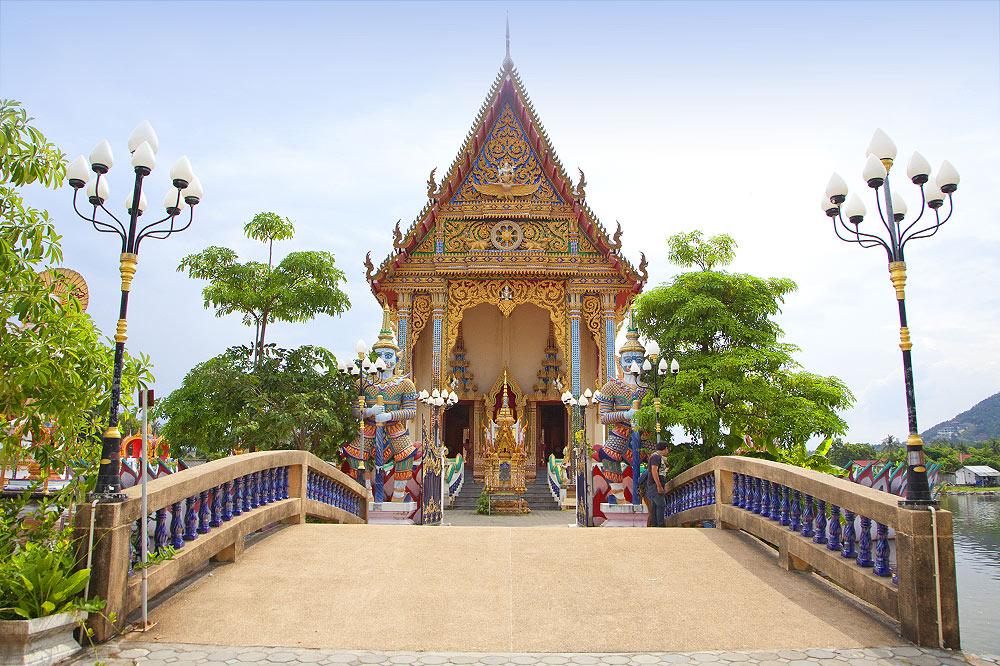 The temple´s construction dates back to about one hundred years ago, with most of the architecture reflecting Koh Samui´s rich Chinese heritage, combined with traditional Thai styles. The main focal point, the huge 18-armed white Buddha, portrays Guanyin, the Goddess of Mercy and Compassion. Guanyin also dates back to ancient China, another sign of how the influence of Chinese Buddhism has spread across much of South East Asia.
One thing you might be wondering upon first glance of the statue is why so many arms? The 18 arms of Guanyin represent her ability to reach out and help many people across the world - multitasking if you like, but just on a much larger scale. Online photos simply don't do this colossal structure enough justice - it really has to be seen in person to be believed. In fact, it so big that if you're flying into Samui by plane you might be able to spot the giant Buddha from up above.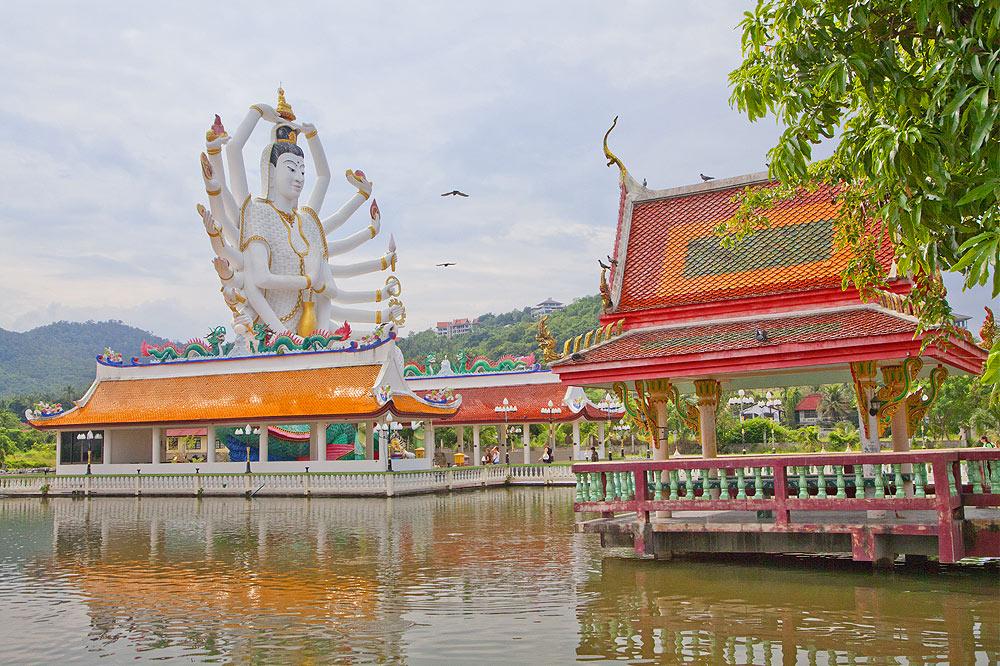 Surrounding Suwannaram Temple
Within the monastery grounds is another temple on the lake from which hundreds of tiny golden bells hang and make a charming sound in the breeze. Inside, the walls are adorned with paintings of different scenes from Buddhist writings and if you are visiting at a certain time, you can make a donation and be blessed by one of the temple's monks. When the monks aren't around, donations are still appreciated and you can rest assured that your money will be going directly to benefit the upkeep of the temple or to help the monks lead their traditional lifestyle.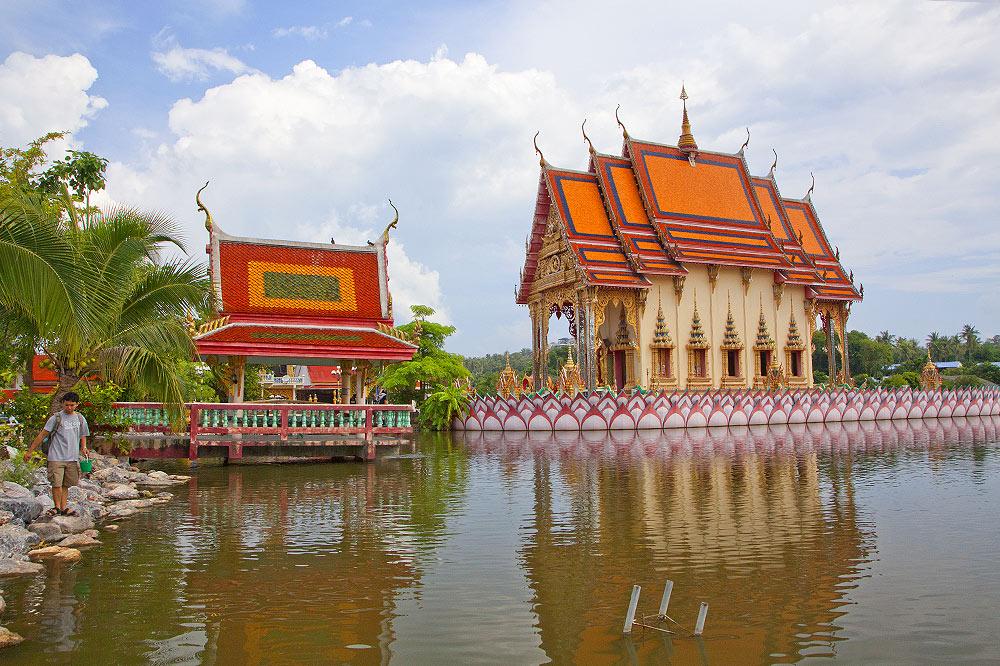 Elsewhere around the temple complexthere is another Buddha statue to see, as well as the 'Buddha Footprint' at which you can make a wish. The lake these temples and statues are built on is full of turtles and catfish and you can buy bags of fish foodto throw to them. It´s quite a sight to watch dozens of mouths all rise simultaneously out from the water to hoover up the food that you throw.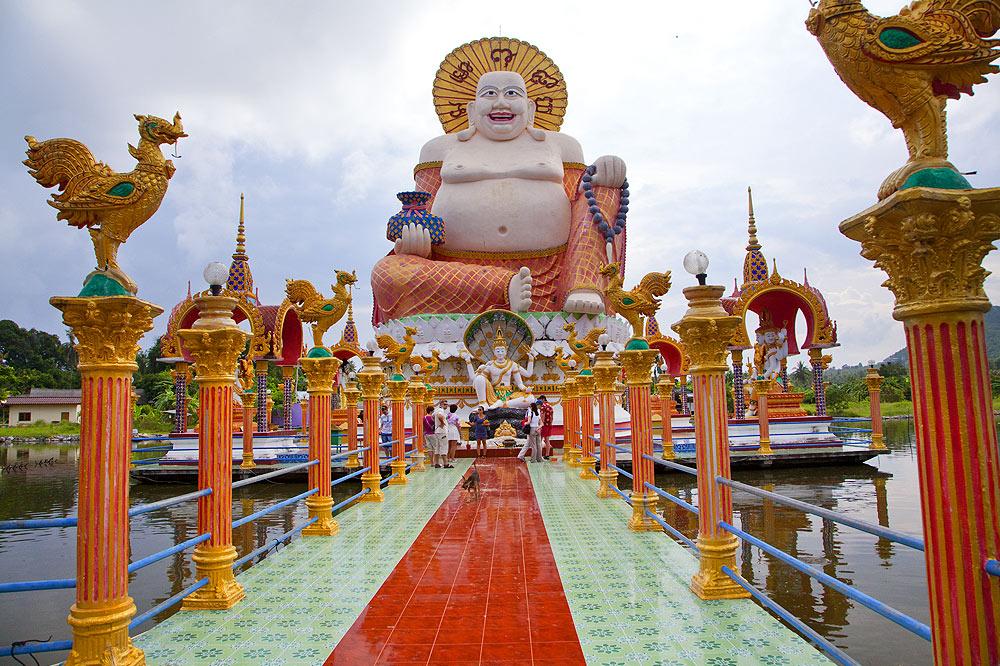 As previously mentioned, Suwannaram Temple (orWat Plai Laem) is often overlooked by tour companies, perhaps due to it slightly remote location away from Chaweng and Lamai. However, this is not necessarily a bad thing as here you´ll be able to find true peace and tranquillity that is often difficult to find elsewhere on the island, especially in high season. Although a little cut off from the main towns on the island, the delightful little village that the temple is situated at has plenty restaurants and shops to keep your belly full and your thirst quenched.
Visiting Suwannaram Temple
The temple is open every day but closes when the sun goes down. To find it, take the main ring road 4169 to the northeast of Samui, and then turn off on route 4171. It is located relatively close to the Big Buddha temple, 3 kilometres north of Samui International Airport, 3 kilometres east of Bophut Beach and 7.5km away from Chaweng Beach.
Please note, as with all temples in Thailand, it is important to dress respectfully which for women means covering their arms and legs as much as possible. Men should avoid tank tops and skimpy shorts (you know who you are). Entrance, like the vast majority of Thai temples, is free, but small donations (20-100 baht which will be used to help with the upkeep of the temple and to support the monks) are encouraged.