---
Ao Nang Beach in Krabi
Ao Nang Beach, Krabi
Ao Nang is Krabi's vibrant tourist centre. It has the relaxed atmosphere of a small town, the beauty of a beach resort, and the unique friendliness that sets Thailand apart from the rest.
This part of the world is famed for one thing and one thing only: its jaw-dropping natural beauty. The golden beaches and towering limestone cliffs are good enough reason alone for the hordes of backpackers to make the epic journey south from Bangkok. While those who aren't on a shoestring budget usually fly in, the brave soles making the overland journey can expect to spend around 13 hours on the bus or a whopping 20 hours on the train. And it's worth it.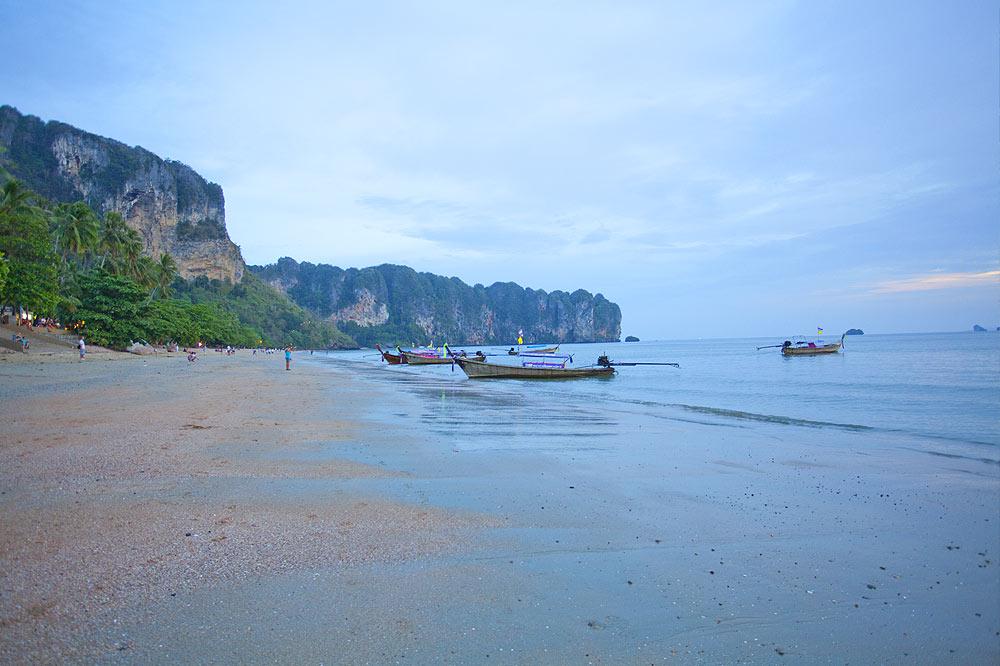 Let's talk more about those beaches. The town of Ao Nang has its own strip of golden sand which is relatively long and can become quite wide when the tide is out. It bathes in the shadow of a majestic limestone headland that provides the perfect backdrop. For many visitors it's the very first beach they see in this region - or even the whole of Thailand - and they're probably not expecting it to get any better than this. But they'd be wrong. Our recommendation would be hop on a long-tail boat to the nearby Railay, Pra Nang or Noppharat Thara Beach where you'll find even more spectacular scenery but in more chilled out and quieter settings.
The Krabi province in which Ao Nang is located is also home to the world renowned Koh Phi-Phi island, which hit the headlines in 2004 when a devastating Tsunami hit. The island is now recovered, redeveloped and safer than ever with improved evacuation points and warning systems. You can reach it on long-tail boat or ferry from the Ao Nang Beach and there are plenty of travel agencies around offering full or half day excursions.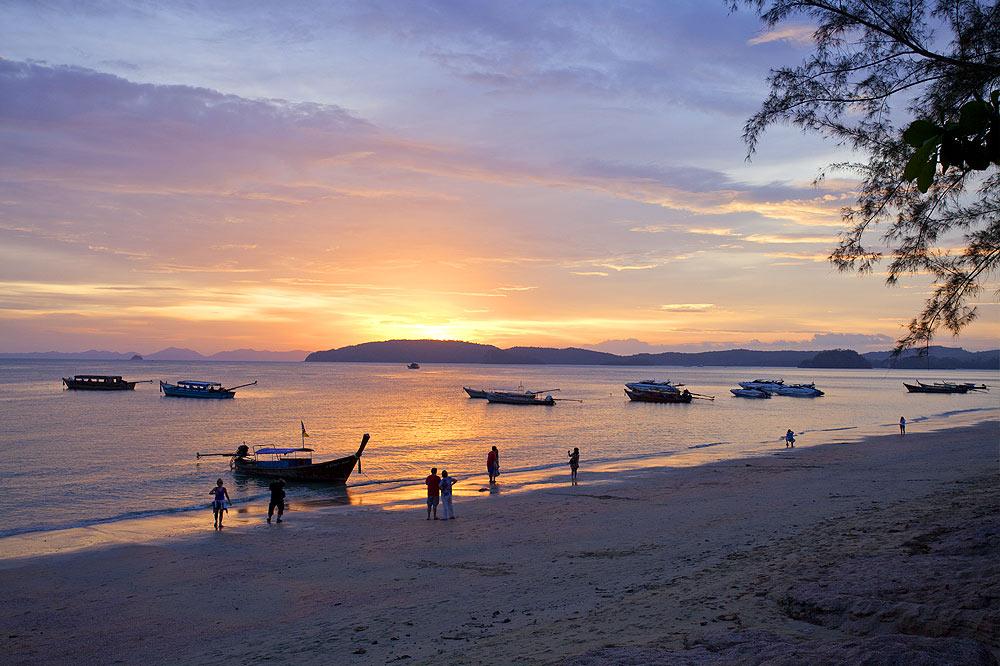 Ao Nang Town
The town itself is relatively small in size. A 30-minute stroll takes you from one end to the other. Some say that the town has reached an optimum level of development, with plenty of accommodation and entertainment choices to cater for its visitors, whilst at the same time retaining its sleepy atmosphere and overwhelmingly natural beauty. Given that floating buildings are impractical and sheer cliffs don't readily lend themselves to development, this paradise won't be paved over anytime soon.
Eating in Ao Nang
As always with coastal restaurants in Thailand, seafood is the star of the show. Walk around town or near the beach in the early evening to see (and smell) the daily ritual that is the Thai seafood barbecue. The plethora of fish, prawns, crabs, shellfish (etc) are cooked to taste and come at very reasonable prices. One highlight is 'Bernies Place' which does an all-you-can-eat BBQ for an incredible 250 Baht (just don't expect lobster or tiger prawns to be included!)
Ao Nang Activities
Other than living the beach dream and gorging yourself delicious on food all day, there is also an impressive selection of sports activities, both in the water and on dry land, which are available at Ao Nang. One of the most popular in the region is rock climbing, with professionals flocking from all over the world to sample the cliffs in Krabi. Walk around Ao Nang town and you'll soon spot climbing centres which do excursions for all abilities. Even if it's your first time and you don't have any equipment you can still join in the fun.
Other than climbing, you'll find open water PADI (scuba-diving) courses, snorkelling trips, jungle trekking trips, elephant rides, cruises and mountain biking - just to name a few.
Nightlife in Ao Nang
One final activity we almost forgot to mention, and one that is particularly popular among the younger backpackers in Ao Nang, is partying - and lots of it. Although Ao Nang Town is far from a clubbing destination (see Koh Phang, Koh Samui, Phi-Phi, Phuket for that), it doesn't stop everybody from having a good time at the scores of bars and select few clubs.
By road, Ao Nang is 20-minutes from Krabi Town. Access the area by minivan, private taxi or Songtheaw from Krabi Airport or various transport links in Krabi Town.
View all our Krabi Villas for rent here.