---
Nang Rum Beach
Thai Navy Pattaya Beach
When it comes to beaches, popularity doesn't necessarily go hand-in-hand with beauty. However, Nang Rum Beach in Sattahip might just be an exception to this rule; it's both the most visited and also probably the most beautiful beach in the nearby area.
This is thanks in no small part to the presence of the Royal Thai Navy, who maintain the area and keepit looking clean and pristine. The beach is close to a coral reef and some small islands, some of which are totally undeveloped. The fine white sand and clear turquoise water really do make this relatively hidden beach a true gem.
Its size is quite small, only about 300 meters in length and visitors must pay a small entrance fee to help support the beach's upkeep. Although some may balk at the idea of paying to enter a beach, the area's natural beauty and the cleanliness of the water and sand is well worth the cost of admission.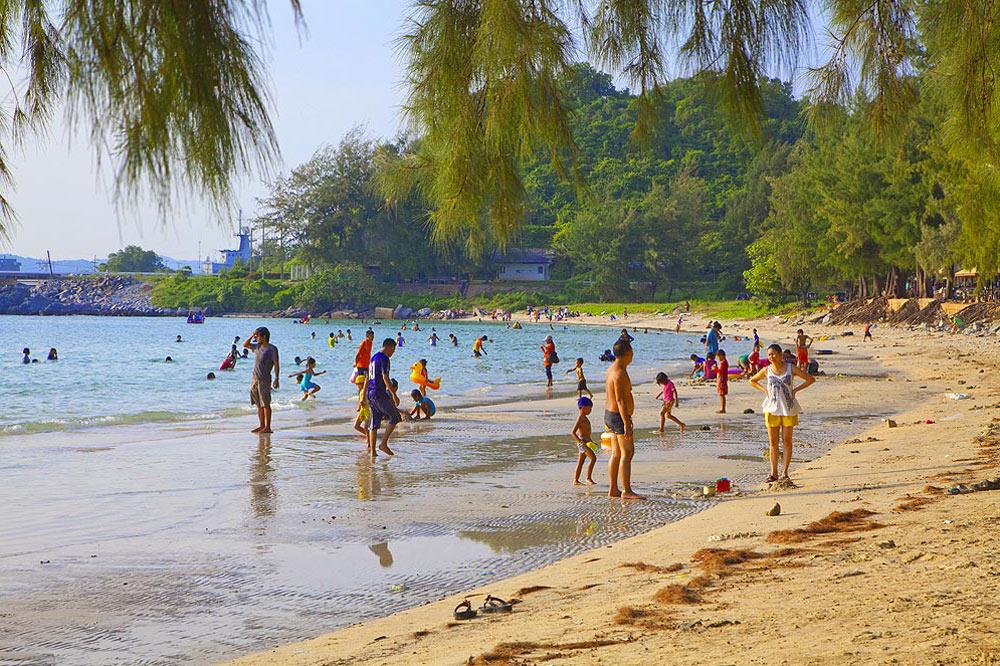 Amenities at Nang Rum Beach
Along the beachfront there is a good choice of restaurants, bars and shops catering for local and foreign visitors. Other than the pristine white sand and gorgeous backdrop, there are various other photo opportunities, including some quaint statues of Buddhist Gods and characters from Thai literature, as well as a big old navy ship which is in close proximity to the beach. Unfortunately, it's only accessible to Thai nationals, but you can still get up close for a better look.
Compared to downtown Pattaya, Sattahip is rather undeveloped in terms of accommodation for tourists. Instead of the usual choice of high-rise hotels, most of the rooms around here are actually provided by the Thai Navy. The thought of staying in a room built for Thai sailors might seem a bit odd, but is actually a good range of rooms that cater for all tastes and needs. Be sure to book in advance as they fill up quickly - particularly on the weekends and public holidays.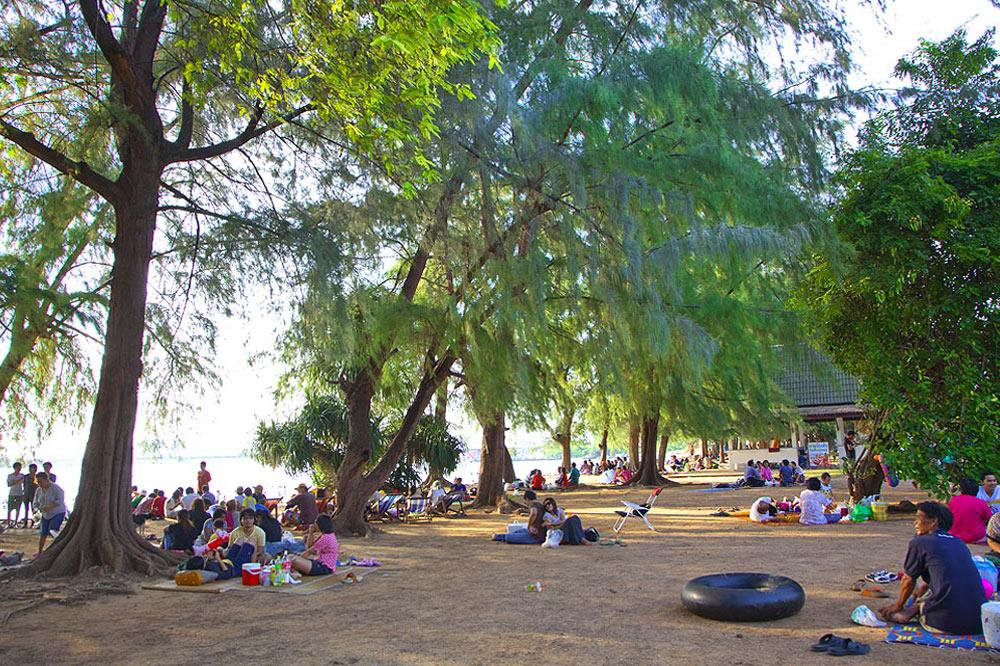 Getting to Nang Rum Beach
The best way to access the beach is by private car - if you don't have your own wheels then you can rent a car (from 1,000 baht per day) or motorcycle (from 250 baht per day) from a vast choice of places in Pattaya. Private taxi vans also make the trip from Pattaya to Sattahip, but be warned that there is no onwards service to Nang Rum Beach. From Sattahip you should be able to grab a Songtheaw but always negotiate the price first to avoid any potential shocks were you arrive at your destination. Please note that Nang Rum Beach is sometimes known as a Thai Navy Pattaya Beach.
Coming from Pattaya, visitors should get on to Sukhumvit Road and head for Sattahip. Take the left turn just before the entrance of Sattahip Market and then follow that road for about five or six kilometers until you see a sign for 'Jook Samet Port'. Follow that sign and you'll end up at the navy barrier. Once here, the beach will be obvious for all to see and all your hard work in finding it (although it's not actually that difficult) will have paid off.