---
Pattaya Hill Viewpoint - Khao Phra Bat
Pattaya View Point and Buddha Footprint
Pattaya View Point is a vantage point to see the best panoramic views of the curved bay of Pattaya either in the day or at night.The viewpoint is also where you'll find Khao Phra Bat Temple, home to the famous 'Buddha Footprint'.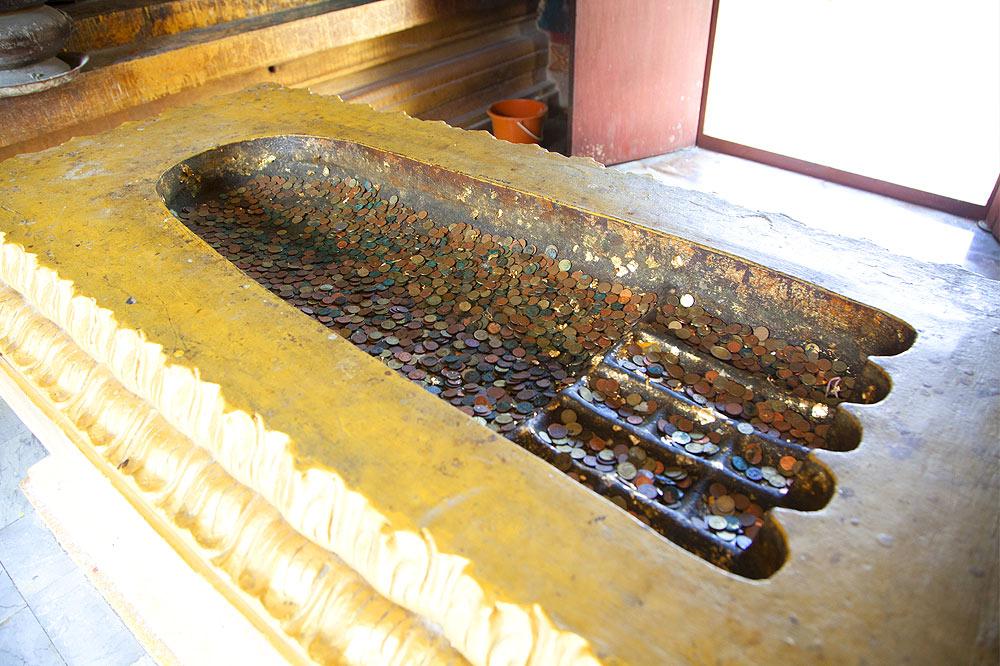 The viewpoint, temple and footprint all sit on top of the popular Pattaya Hill, which is situated about 2 kilometres outside of Pattaya. The viewpoint offers spectacular views across Pattaya and the surrounding coastal areas. You can see for miles and those who want to see even further are able to rent binoculars for just a small fee. It proves particularly popular at dusk, as locals as well as tourists flock to watch the sunset. You'll sometimes notice families come to this part for a nice scenic picnic. Its also a popular refreshment stop, and locals' usual method of rehydration involves Thai whiskey, soda water and copious amounts of ice. There's plenty of shops and stalls up here too, so don't worry if you forget any supplies.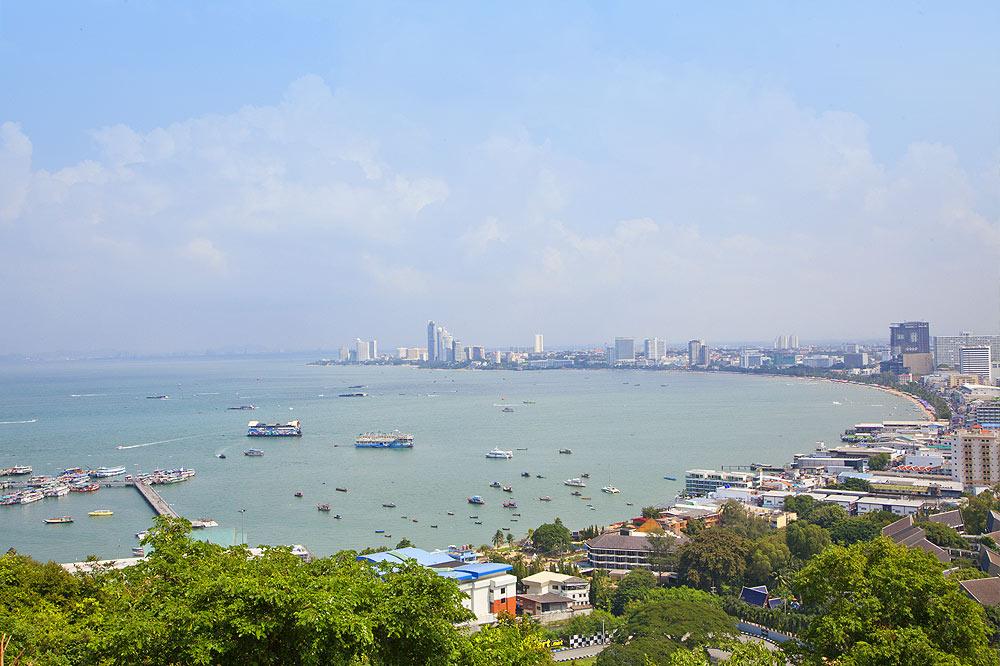 Khao Phra Bat Temple
Khao Phra Bat Temple (or Wat Khao Phra Bat) is located at the same entrance towards the Pattaya viewpoint, and is a small temple without monks. You will also find a 200-year-old replica of the footprint of Buddha which is the main feature of this temple. Many beautiful statues are on display, together with some nice views and breezes from the gulf.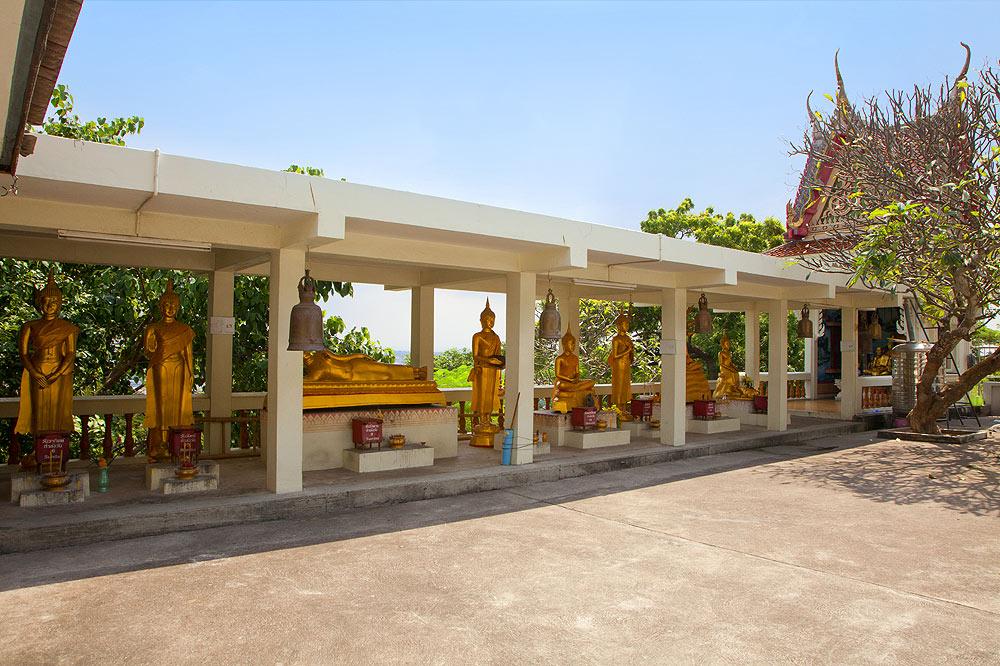 One slightly unusual thing about this temple is the fact that there are no monks living within the vicinity. With most temples in Thailand monks work, mediate, pray and live on the temple grounds. However, at Khao Phra Bat Temple the main and only attraction seems to be the heavily revered Buddha Footprint and supporting Buddhist effigies inside.
Other Attractions at Pattaya Hill
On the top of Pattaya Hill, also known as Khao Phra Tamnu, you will find a statue of HRH Prince of Jumborn, the father of the Royal Thai Navy and the RTN Broadcasting station (FM 104.75 MHz) as well. The jet black statue of the Prince is popular among locals who stop off to pay their respects every day. From the statue and broadcasting station there are also further panoramic views across Pattaya and the Gulf of Thailand. This area is closed off at 21.00 but the rest of the hill remains open.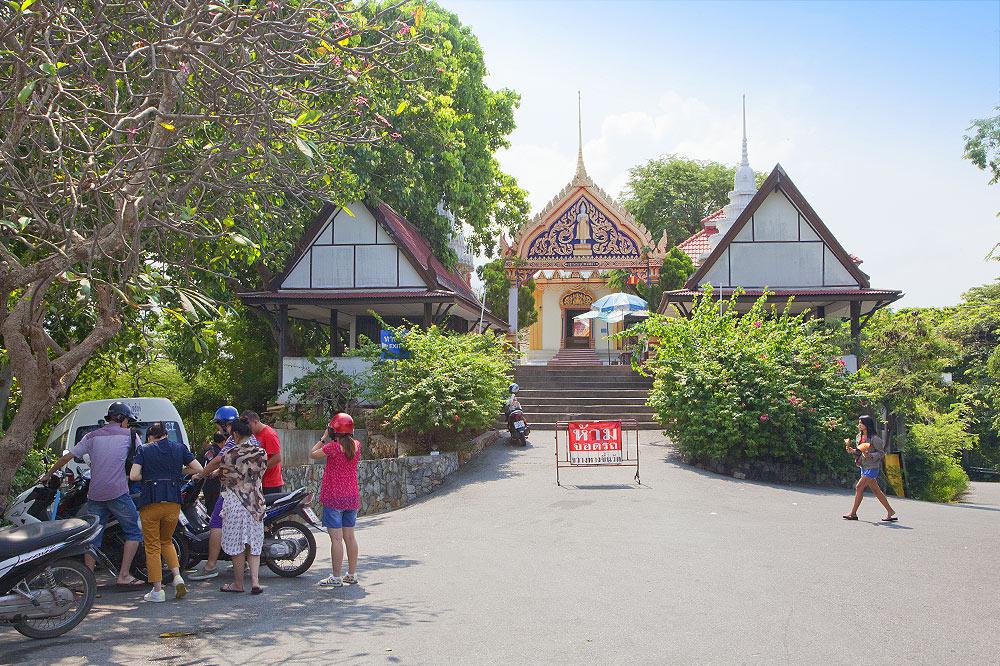 Getting to Pattaya Hill
The hill is just off a popular stretch of road between the main Pattaya City and Jomtien Beach. Many public taxis (Songtheaws) head this way. If you catch one going here already, expect to pay only a small fee. For special journeys, taxi drivers will tend to charge more.
If you have your own transport, it must be noted that there is no parking at the top of the hill. For access to the view point, Khao Pra Bat Temple and the Buddha Footprint, visitors must park further down and then make the short trip up by foot.
All attractions on the hill are completely free making this a fantastically cheap little excursion. The only cash you'll need is for food and drink.