---
Patong Go Kart Speedway
Phuket Go Cart Racing
For the ultimate family fun and an exciting day out, look no further than Patong Go Kart Speedway, which is one of Phuket's most-loved family attractions. Set at the foot of Patong Hill, the course is 750m from start to finish and boasts sharp curves, long, smooth bends and an extended start for maximum acceleration.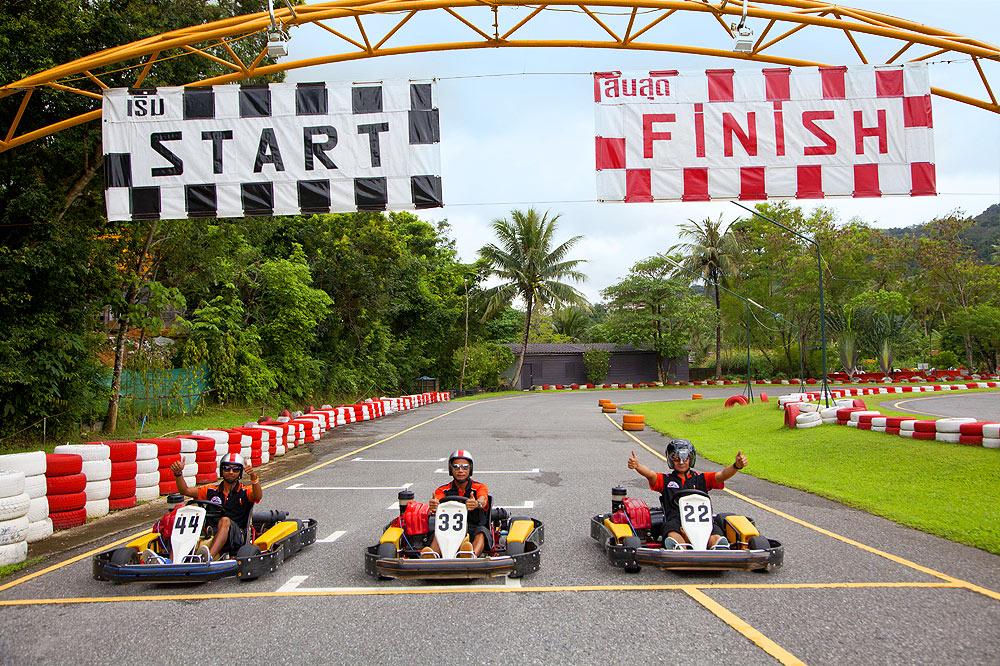 The speedway was first opened in 1991, offering 4 styles of kart suitable for all ages and skills from kids to experienced go kart racers. Children's carts are 140cc and can reach speeds of 40kmh (Please note that children under 1.25 metres tall cannot drive). The next size up at 200cc is the standard cart with a top speed of 70kph. For parents who like to drive with a child passenger, there are special carts at 270cc that have 2 seats and can reach 60kph. The 400cc racing carts have a top speed of 110kph. These are probably left to the professionals - or at least those who have previous experience of track racing before.
For the more experienced drivers, races, championship events and even Grand Prixs are organised throughout the calendar year at the centre. Anyone can join (there are different prices for each event) and be sure to book your sport on the grid as these event become full weeks or months in advance.
Most of the time the track operates on an 'arrive and drive' system, though it is advisable to ring in a advance to check (details at the bottom).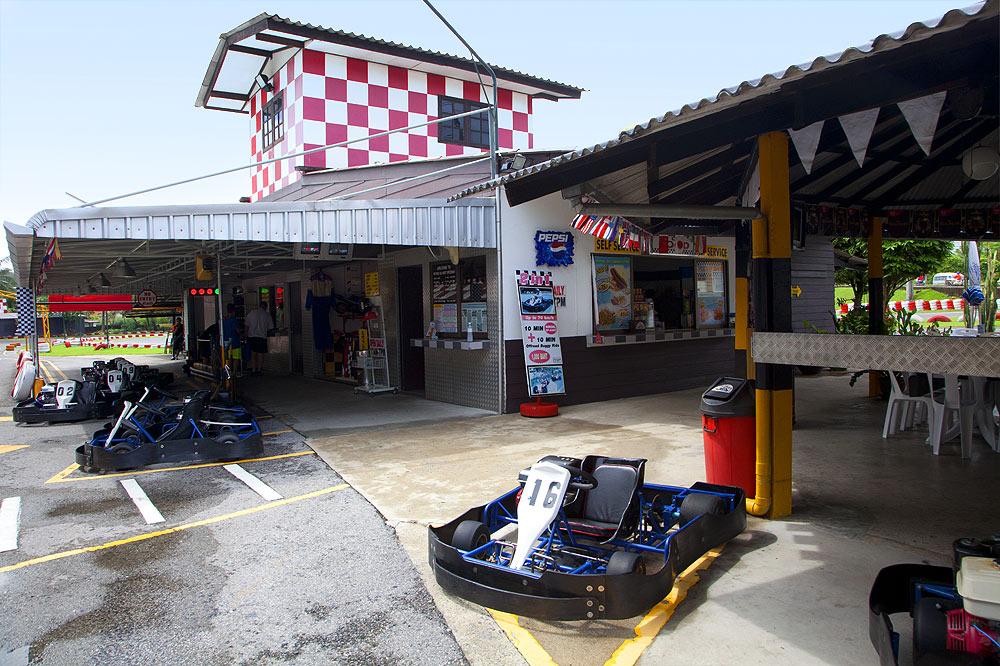 Off-road Buggies
A relatively new addition to Phuket Speedway is their off-road buggy track. The exhilarating course has water splashes, bridges, long straights, tight turns and is 600 metres in length. The 300cc purpose built buggies come fully equipped with helmets, seat belts and rollover bars for added safety.
Safety at Phuket Go Kart Speedway
Experienced staff monitor the activity, giving help and safety advice where needed and making sure everyone is clear as to what they are doing. The track itself is kept in excellent condition, with safety the first priority. Wide and with a clear view past the curves and bends, the entire tack has red and white tyres on each side to allow for safe stopping if a bend is missed. Groups of 5 or more visitors can have a mini-grand prix arranged for them, with practice laps and an exciting final. The speedway is open between 10:00am and 7:00pm daily, and guarantees a fun visit.Finding the track
The speedway is open between 10:00am and 7:00pm daily, and always guarantees a fun visit. Find it by heading to Patong Hill where you'll see signposts making it difficult to miss. It's reachable by tuk-tuk or Songtheaw both from Patong Beach and Phuket Town.
The track's location also offers a stunning backdrop, as it lies right at the base of Patong Hill. A particularly good time to go is early evening, as the sun is setting and the weather is a little cooler. At these times, however, it can get busy so you may have wait a short time for your turn, or book in advance if you're feeling particularly organized.
If you prefer to leave the racing to others, the centre has a bar with plenty of refreshments and snacks. Just to watch the carts zip round the track is entertaining enough for some.
Contact details of Patong Go Cart Kart Speedway
Post address:
Patong Go-Kart Speedway Co., Ltd.
118/5 Vichit Songkram Road, Moo 7
Kathu, Phuket 83120 THAILAND
Telephone: +66 076-321-949 or 076-202-689.
Email: [email protected]