---
Kata Noi Beach
Just a few minutes' drive away from Kata Beach, Kata Noi Beach ("little Kata" in Thai) is a great place to go for a relaxing yet fun time. Kata Noi is perfect for those looking to get away from the vibrant nightlife and rowdy bars that can be found in other parts of the island.
Indeed, the main activity at Kata Noi is to simply rest, relax and enjoy the natural scenery. This is just fine for the many who come to visit every year, and with a number of lovely small restaurants and accommodation options it is small wonder that so many keep coming back.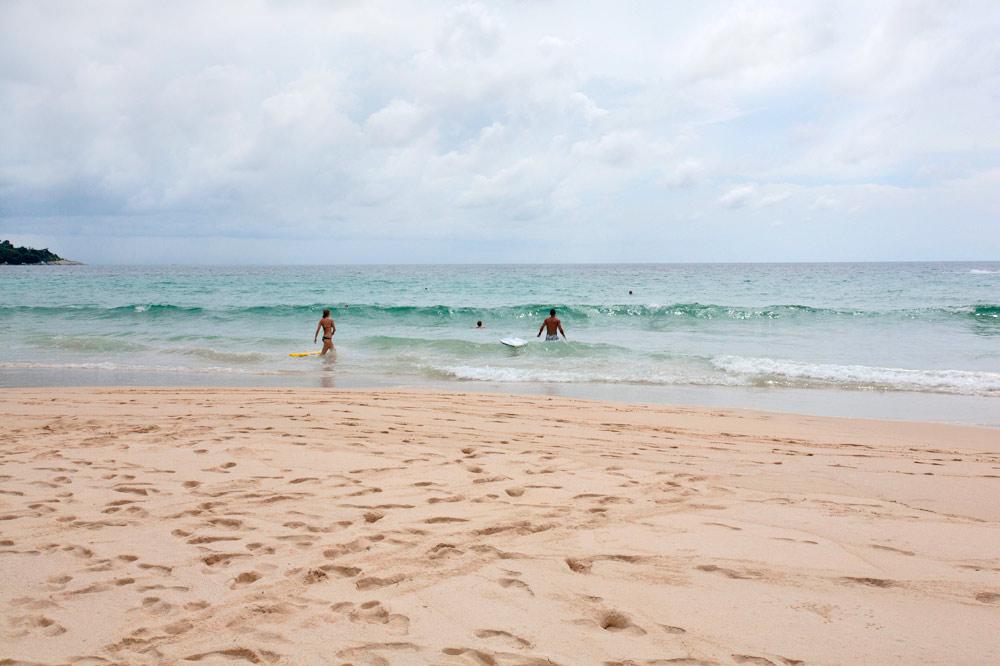 Many consider this to be one of the best Phuklet beaches for tranquility and natural beauty.
Almost half a mile long, Kata Noi is located just south of Kata Beach. Located on a dead end road, visitors should continue past Mom Tri's Boathouse and follow it to the left. After passing the Katathani Phuket Beach Resort, there is parking and direct entry to the beach. Upon arrival, visitors are greeted by soft sand, green jungle and clear blue water.
The sea is calm from December to April, but large waves attract the surf crowd from May to October. Swimmers should take extra care if they see red flags flying on the beach. The beach also offers a number of watersports options, including banana boating, parasailing and jetskiing. Alternatively, Hobie cats and kayaks can be rented by the hour and are a magical way to see how stunningly beautiful Kata Noi is from a distance. Kata Noi's restaurants serve reasonably priced Thai and international cuisine. Katathani Phuket Beach Resort, which covers a large part of the beachfront, contains several restaurants while Mom Tri's Kitchen is a great place to enjoy dinner. However, visitors don't have to look very far for beach vendors, who sell a surprisingly large range of snacks. At the south end, On The Rocks is also a favorite with beachgoers.
There are a number of tailor shops as well as a convenience store on Kata Noi. Just over the hill, the shops in Kata Beach carry most other items.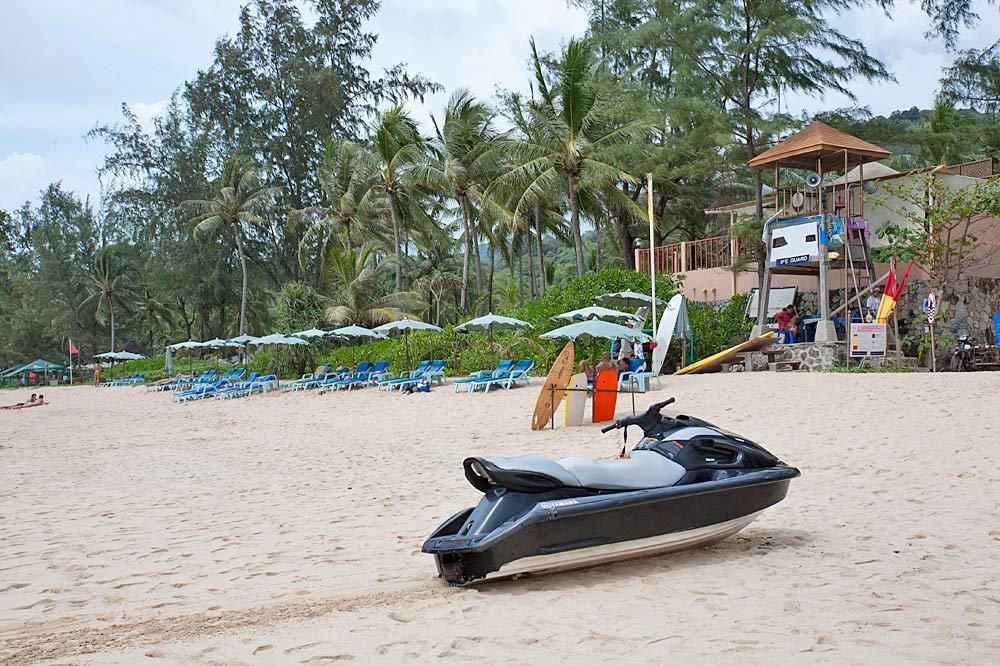 Kata Noi Beach's southern end attracts schools of colorful tropical fish and, a little further out from the rocks. Visitors can conveniently rent snorkelling gear right on the beach.
The small, lush island known as Poo can be seen in the distance, and the nearby secluded Nui Beach can be visited by long tail boat. Departing from the beach's southern end, the journey takes around 10 minutes and costs 1,500 baht.
Kata Noi is a quiet and tranquil place in the evening, but entertainment is only 10 – 20 minutes away in Kata village.
Kata Noi hasn't changed in years, and still feels like a sleepy backwater. In many ways, it has the best of both worlds, with luxury dining options and the tranquillity of a beach that never seems to get crowded.