---
Khao Phra Thaeo National Park
Phuket National Parks
Khao Phra Thaeo National Park covers 22km² of virgin rainforest on the northern end of the island. Here, away from the crowds, you will find tranquillity and quiet, broken only by the natural sounds of tropical forest. It is a protected area with a diverse wildlife including tusked hairy wild boar, Malayan sun bear, slow lorises, langurs, porcupines, deer, palm civets, monkeys, cobras, pythons, monitor lizards, flying foxes, squirrels and many species of bird.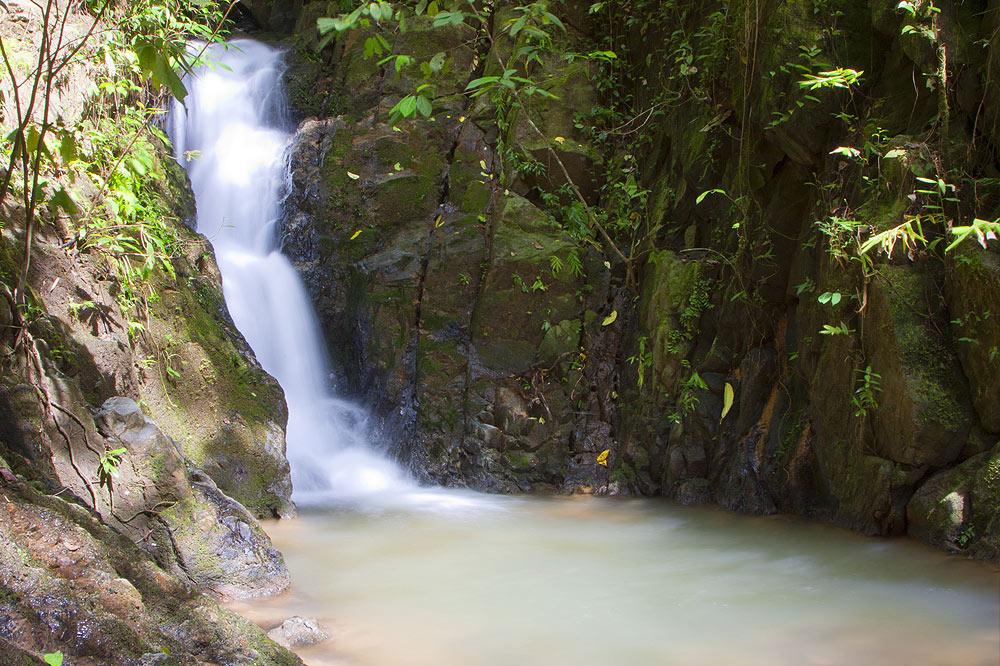 Phra Thaeo is actually the name of the mountain range found in the Thalang District, in northern Phuket. The mountain is densely covered by the dense green forest, which means that off the beaten path, this hospitable terrain is almost impossible to pass. There are several hills in the park, the highest of which are Khao Prathiu at 384m, Khao Bang Pae at 388m and Khao Phara at 422m. Some of these peaks are accessible by car, although the road deteriorates as you climb. For the ambitious enough to try and walk up the jungle, its near impossible unless you stick to the mapped out routes. The rainforest is incredibly dense in parts, and it's very easy lose track of where you are.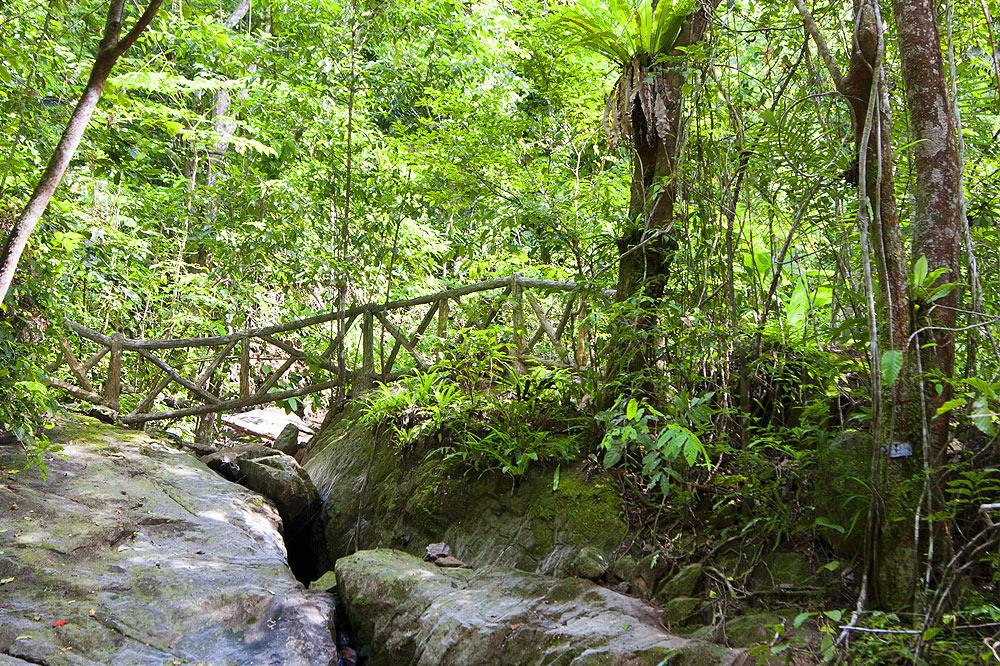 Located in the north of Phuket, this park contains the only remaining virgin rainforest on the island. The park conserves a number of species of wild animals too. About 100 species of bird also inhabit the forest vegetation, which consists of huge trees, creepers and climbers of every description.
Nature enthusiasts might be interested to learn more about the vast range of different plants found at Pra Thaew Park. You'll find Palms, Rattans, Bamboos! Orchids, Ferns, Mosses and many more.
The reserve has several forest trails for hiking and guides can be hired from the reserve office near Ton Sai Waterfall. There is also a small museum and information center. A center of environmental studies, Khao Phra Thaeo, with an area of 13,925 rai, encompasses a dozen areas of virgin forest and actively conserves a rich variety of wild animals, which would otherwise become extinct in the fast-growing modern Phuket.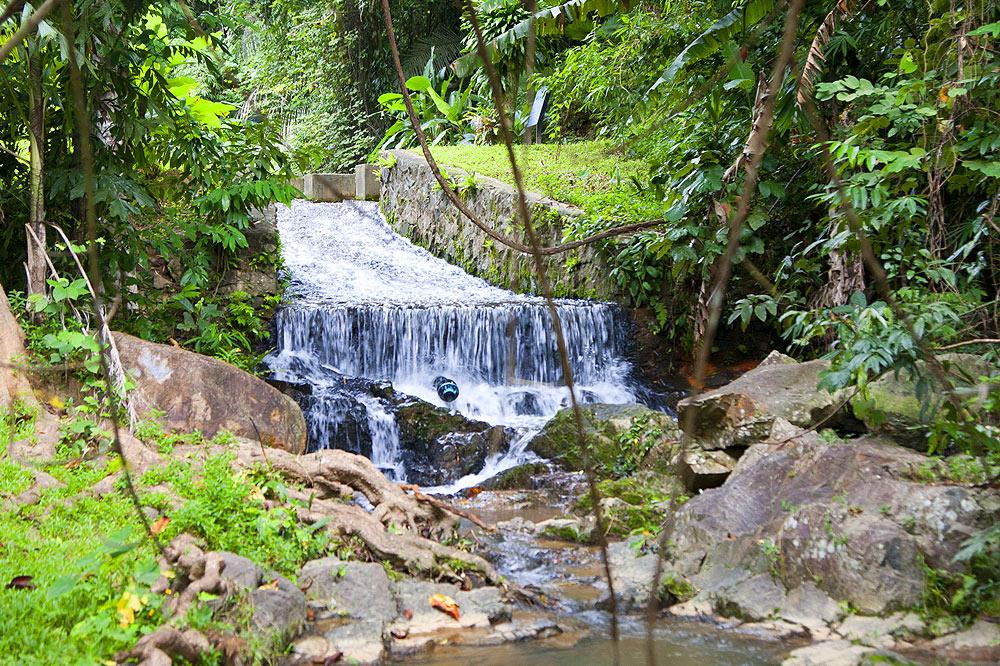 Bang Pae Waterfall
Throughout the park, several rivers feed the jungle's rich ecosystem with fresh clean water. There's also a medium sized waterfall named 'Bang Pae', located on one of the many streams. The drop itself is about 20 metres and the water flows down a spectacularly steep cliff, over 500 metres in length. If you're lucky, you might be able to see some wildlife stopping for a quick drink and cool off in the shade. Wild boar, deer and porcupines have all been spotted doing exactly that at Bang Pae waterfall.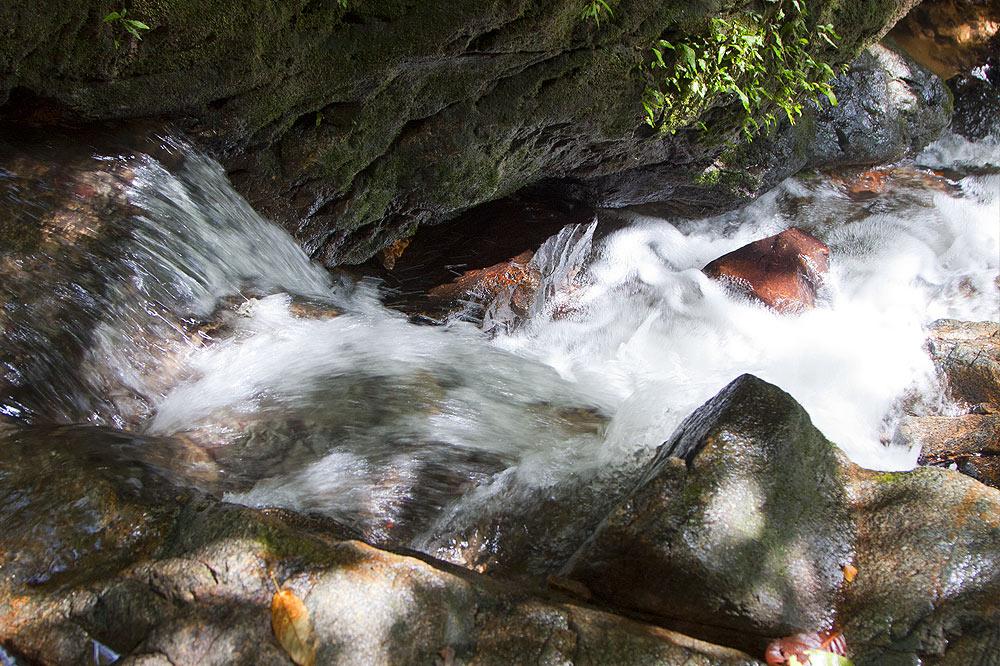 Accessing Khao Phra Thaeo National Park
Visitors can best find this park by driving in their own private cars. Alternatively, many day trips run to Pra Thaew Park from Phuket Town or Patong. These can be arranged at most travel centres. One other option is to take a taxi or Songtheaw, but these special trips can be a little pricey and there's no guarantee that there'll be a waiting taxi to take you home at the end of the day.