---
Patong Temple Phuket
Patong Temple, Wat Suwan Khiri Wong, Phuket
Patong Temple, or Wat Patong, is situated in Phuket's most popular tourist area. Although today Patong is home to many hotels, restaurants, bars and more, it was once just a simple small seaside town.
Patong Temple offers visitors a chance to step back in time a little bit and glimpse some of the old Patong; the way it used to be. The temple is not just one building but rather a quite extensive complex, giving visitors a chance to explore and ponder this unique place.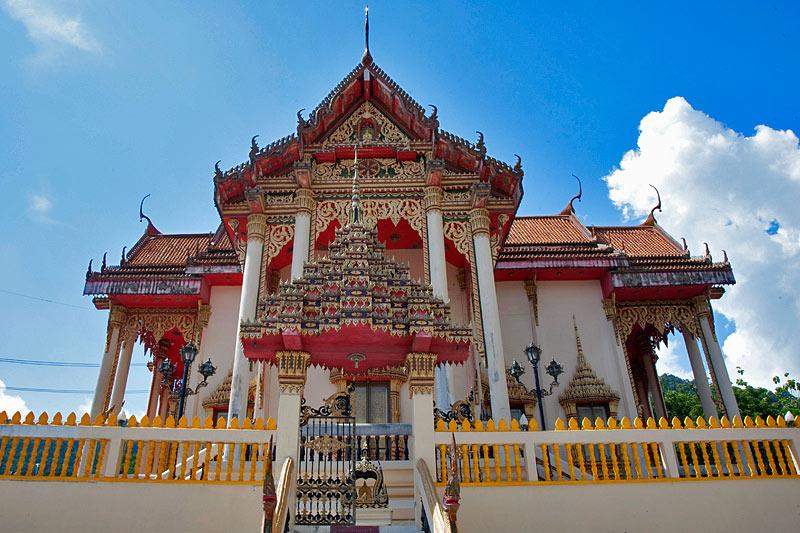 Known locally as Wat Suwan Khiri Wong (Wat is the Thai word for temple), Patong Temple represents the border line into Patong. You can find it along the busy island road which stretches from Phuket Town to Patong. Other than the faint sound of passing cars, the temple grounds are quiet and peaceful, offering an oasis for both locals and foreign visitors. This is a great place to take a moment to contemplate life, philosophy or just the previous night's mistakes.
The ornately decorated roof and statues are really quite a stunning sight from the outside. You'll notice the gold coated details that have been painstakingly carved around the perimeter of the main temple roof, which itself is a brilliant red color that contrasts the gold perfectly. The gold on red, as you'll have probably noticed, is a popular theme throughout the temples in Phuket and the rest of Thailand. Inside the main temple building is equally spectacular, if not more. You'll find various effigies of Buddha and intricate religious relics throughout.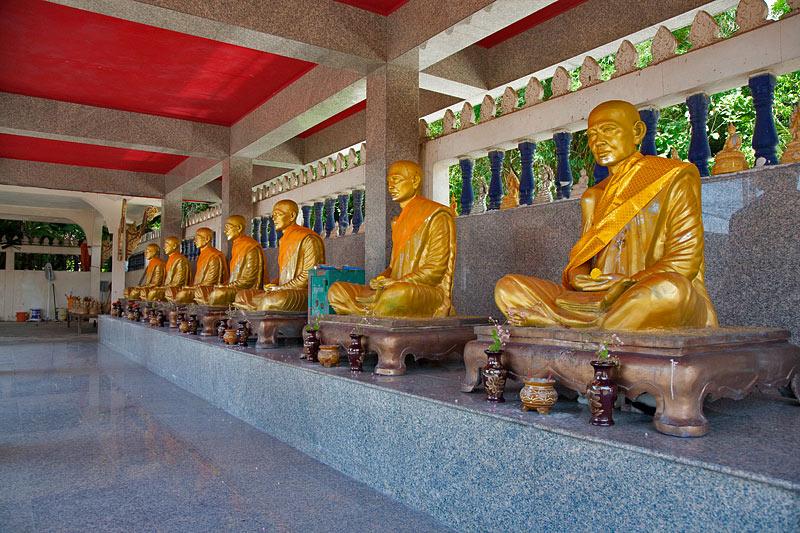 Patong Temple in the morning
Despite being situated in one of the world's top tourist hotspots, the temple still retains its rich Buddhist atmosphere and original features. There are monks living on site and in the morning, if you're up early enough, you'll be able to spot a procession of them walking from the temple through the nearby villages of the Patong area. Locals will often hand out food or give a small amount of money - an act of making merit that is supposed to bring good fortune to those who donate. Buddhist or not, you are welcome to join in the merit making too - presenting a perfect opportunity to do your good deed of the day.
If you're up early to see the monks, you'll also be able to catch the nearby morning street market, which starts setting up around 8am. Fresh fruit, vegetables, meat and fish are all sold at excellent prices.
Buddhist Memorial
At the top of the small hill road that Patong Temple is on lies a small Buddhist shrine. Nothing spectacular, but stay for long enough and you will notice that many cars strangely beeping their horns as they pass by. This is not in anger of other drivers, but in fact a sign of respect to the shrine which commemorates all the lost lives through road accidents on the island. The sound of honking horns is a poignant reminder to take extra care; Phuket has some of the most lethal stretches of road in the whole of Thailand.
Click to view our complete range of Phuket villas and Phuket apartments for rent here.